Restaurants
Is the food hall trend finally here? Bar Mercato, a market-inspired restaurant, opens Friday.
Spain, Greece, France, and Scotland are all represented on the menu.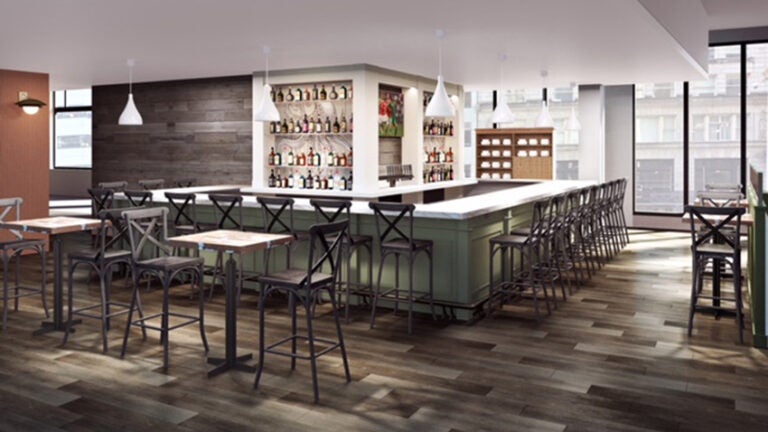 Boston may be a bit behind in adopting the food hall trend, but 2019 is poised to be our year for public market and food hall proliferation. While the launch of the Time Out Market is still a few months away, a new restaurant opening Friday hopes to capture the spirit of the European food hall within its walls.
Bar Mercato, a breakfast, lunch, and dinner spot located at the Hyatt Centric Faneuil Hall hotel, will debut on Friday, Feb. 22, with a menu that draws inspiration from popular food halls and markets across Europe. Husband and wife Teodora Bakardzhieva and Jairo Dominguez, along with partner Theo Bougas, founded the eatery and envisioned a space that would reflect the diverse cuisines of their travels. Executive chef Casey Lovell, who previously worked at Post 390, will be the one to bring that vision to life.
Like a culinary bingo card, Bar Mercato's menu will hit on bites from Spain, Greece, Scotland, France, and other European countries. For breakfast, a Scotch egg will share space on the menu with cheese blintzes, frittatas, and stromboli, along with a few American classics (blueberry pancakes, for example). Lunch will feature seafood stews, fried chicken oysters, lamb gyro, and steak tip toast, while dinner dishes will include bratwurst, fish and chips, and braised lamb shank. Desserts will take a cue from France with crepes and souffles.
"The markets are something we always loved in Europe," said Dominguez, describing how he and Bakardzhieva were inspired by La Boqueria in Barcelona, San Antón Market in Madrid, and pop-ups they visited throughout Portugal and France. "It's a very social experience."
Bakardzhieva will be in charge of the beverage program, which features European-focused beer, wine, and cocktails, including a sizable vermouth collection.
"My wife loves trying spirits," said Dominguez. "I wasn't a big vermouth guy, but we were in Madrid and they had these bars with vermouth on tap." Dominguez was sold.
Starting at 6:30 a.m. daily, a grab-and-go cafe counter adjacent to the restaurant will serve coffee, pastries, and snacks throughout the day, as well as wine and vermouth in the evening — a solid stop for those waiting for a seat to open up within the restaurant.
When asked why he thinks Boston was late to get in on the food hall trend, Dominguez cited some key differences between the U.S. and other countries.
"It's a lot easier doing these things in Europe and South America," he explained. "Here, we have a lot of regulations. It's also a big undertaking to find a space that you can afford in Boston."
Fortunately, Dominguez and his partners found the space to at least create a food hall-inspired concept. Bar Mercato opens to the public on Friday at 7 a.m.
Bar Mercato; 54 Devonshire St., Boston; Sundays–Thursdays 7 a.m.–10:30 p.m., Fridays and Saturdays 7 a.m.–11 p.m.; barmercato.com