Restaurants
Someone stole Backbar's cat mascot figurine. They'd like it back, please.
The beloved item was lifted from the Somerville bar on Valentine's Day.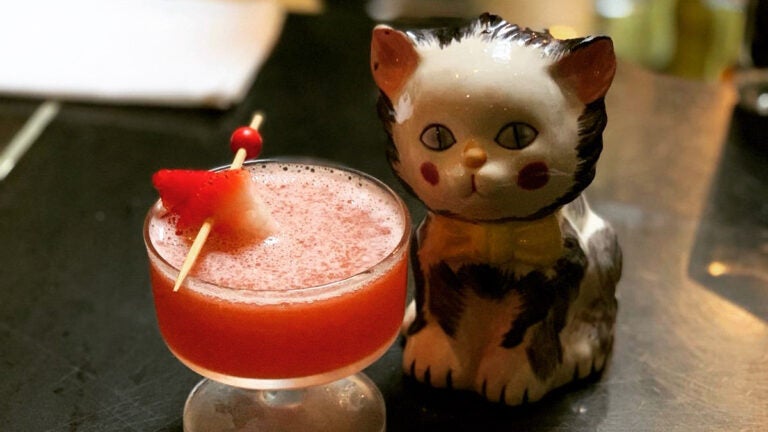 Hold on to your possessions, Somerville: A literal cat burglar is in your midst.
On Valentine's Day, Backbar — a cozy cocktail bar in Union Square — learned that its cat mascot had disappeared. A regular figurine at the bar since 2016, the 1950s vintage planter belongs to head bartender Kat Lamp, who found it on Etsy. Lamp told Boston.com in an email that she originally thought the item would be great for tiki drinks, but because she couldn't confirm that it was free of lead — "and because it was the perfect balance of kitschy and creepy" — it made its way to the front corner of the bar.
"It was a great ice breaker, and almost everyone who sat at that corner of the bar would remark on it," Lamp wrote. "Over the years it was photographed a lot for Instagram, both by bartenders snapping a picture of a new cocktail and by guests. It was just kind of a staple for us."
The cat became such a legend that the Backbar staff joked about putting it on T-shirts, and when Lamp went on a long vacation, her co-workers sent her frequent photos of the feline.
At the end of the night on Feb. 14, the staff realized that the cat was gone. Condolences poured in after Lamp posted about the heist on Instagram, with one follower writing, "Nooooo!!! I hope it comes back with a nice apology note. I love that little cat, it always makes me smile when I belly up to the bar."
Stealing mugs, silverware, merchandise, and even artwork from restaurants and bars is nothing new. A recent article in the Portland Press Herald described restaurateurs going to extreme lengths to prevent thieves from plundering items, including gluing things down and hiding sentimental decorations.
According to Lamp, Backbar has been the victim of similar thefts before: A regular loaned the bar a unicorn figurine named Mathilda, which was stolen and then replaced with another unicorn figurine — until it, too, was stolen.
"People tend to try to steal decorations or tiki mugs fairly often," Lamp wrote to Boston.com. "None so beloved as the cat planter though. That was the saddest loss!"
If you stole Backbar's cat mascot — or know who stole it — Lamp requested that it be returned, no questions asked.