Restaurants
Karen Akunowicz is paying homage to the Italian town of Modena — she's just doing it her way
Fox & the Knife in Southie is cooking up Italian food a little differently.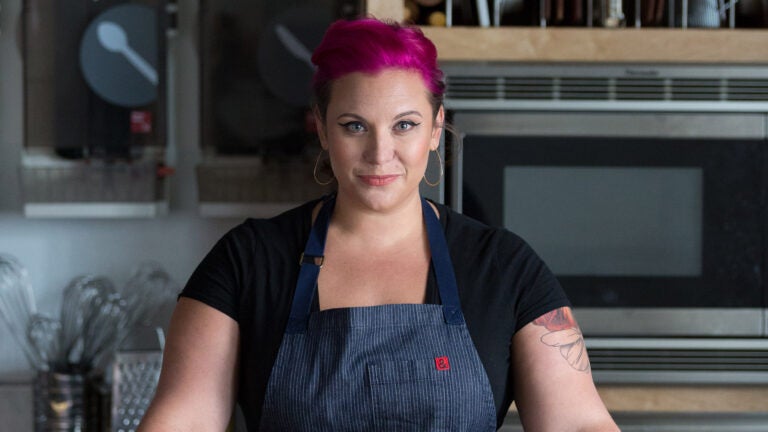 At Fox & the Knife, a 75-seat Italian restaurant in South Boston, you'll find a bread dish on the menu called tigelle. Also know as crescentina modenese, the disc-shaped appetizer is native to the Italian town of Modena, where chef and owner Karen Akunowicz lived and worked for a year over a decade ago. 
"It's an old kind of recipe specifically from that region," Akunowicz recently explained, as she sat in a velvet, tufted banquette at the back of her restaurant just as aperitivo hour commenced. "If I had to compare it to something, I would have to say it's kind of like an English muffin. Somewhere between a crumpet and an English muffin."
Tigelle is rare to see on a menu stateside. It's traditionally baked over a flame in a molded waffle iron, which Akunowicz said you can source from only one or two places in the US. The New Jersey native, who worked at the South End, Asian-inspired hot spot Myers & Chang for seven years before going off on her own, brought an iron back with her from Modena. It bakes just seven tigelle at a time, so the kitchen is constantly churning them out.
"For me, that's one of the dishes here that is really special, because it's not fancy, it's very simple," Akunowicz said (though she admitted that the kitchen tinkered with the recipe over eight months in order to perfect it). "I think they're beautiful. [I encountered tigelle] 10 years ago when I lived in Modena, and I knew that it was something I would someday want to put on the menu."
Akunowicz's menu at Fox & the Knife, which opened on Feb. 2, is both a love letter to the James Beard Award winner's time spent in Italy and a nuanced interpretation of the dishes she learned to make while cooking in Modena's tiny enotecas and pastificios, or pasta shops.
"Pairing that ingenuity or that change [while] remaining rooted in tradition is so important," she said. "When folks ask about the menu, I say it's very rooted in tradition with a modern lens."
Take, for example, the tortelli di pastinaca, a spin on one of Modena's iconic dishes called tortelli di zucca. Tortelli di zucca is made with pumpkin- or squash-filled tortelli — whose shape can resemble either tortellini or ravioli — and sage brown butter and Amaretto cookie crumbs. The dish is textural, incredibly sweet, and not a flavor profile that Akunowicz is usually drawn to — at least not in its traditional form.
Instead, she fills her tortelli with pastinaca (parsnips) and blue cheese rather than squash, cutting the richness with acidic balsamic brown butter. Amaretto cookie crumbs are replaced with raddichio salad for textural crunch. It's an homage to Modena, she explained, but done her way.
Although Akunowicz spent the last seven years immersed in Asian cuisine, Italy never left her. She still keeps in touch with the chefs she worked with while she lived in Modena and, in September 2018, she took a trip to Rome and Sicily. Later this year, Akunowicz plans to visit northern Italy, returning to the country she loves for even more inspiration.
Recipe development doesn't factor into Akunowicz's schedule while she's at work. Between answering emails, managing her staff, writing checks, and, you know, actually cooking, she said her creativity generally kicks in when she's away from the restaurant: in the car; at home with her spouse and Fox & the Knife co-owner, LJ Johnson; at the grocery store. She writes everything down first, rearranging steps and ingredients, before taking her ideas to the kitchen. Then she workshops, transforming dishes like the mafaldini alla anatra into something far from its original concept.
"I kept pulling things off of it," she said of the dish, which features olives, guanciale, and ridged mafaldine noodles, which are named after Queen Mafalda of Savoy. "It's like when you get dressed, you take one thing off. With that dish, I pulled back and pulled back, and what I was left with, I gave to Lydia [Shilland], our assistant general manager, and she said, 'This tastes like the best part of chicken soup.' So it ended up being left with something incredibly homey and satisfying."
Other dishes have resulted in happy collaborations: The multiple quarts of ricotta that are made in-house every day for aperitivo hour produce plenty of leftover whey, which is then used in the restaurant's most popular dish, the tagliatelle bolognese. ("Somebody ordered two of them last night!")
And there are influences from Akunowicz's childhood, as well. One afternoon last summer, Akunowicz, who is an ardent fan of Caesar salad, was standing in the middle of Whole Foods doing some grocery shopping when the concept of Caesar broccoli popped into her head. She tried explaining it to her staff to no avail — "Eh, it's broccoli," they said — until they took a bite and fell hard for the dish. At Fox & the Knife, grilled broccoli is tossed in olive oil, lemon, salt, and pepper, drizzled with house-made Caesar dressing, and accompanied with croutons that are fried and baked in butter and pimentón.
That dish isn't from Modena. That one is straight-up Jersey.
Fox & the Knife; 28 W. Broadway, Boston; Sundays–Thursdays from 4 p.m.–10 p.m., Fridays and Saturdays from 4 p.m. to 11 p.m., foxandtheknife.com