Restaurants
Popover royalty is coming to the West End
Popover King is hoping to reimagine classic New England baked goods, like the popover and Rum Tum Ditty.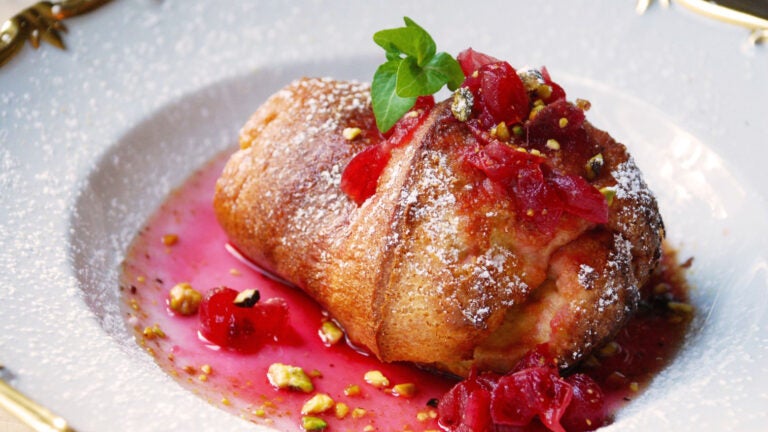 A quintessential New England dish will be the star when cafe and bistro Popover King opens on Friday, March 15.
Located at 74 Canal St. in Boston's West End neighborhood, Popover King will pay tribute to New England classics like Boston brown bread and corn beef hash alongside other baked goods and heartier fare.
The main attraction, though, will be the popover, a derivative of Yorkshire pudding that can be made both sweet and savory. Popover King owner Coco Cabuquit-Love is originally from California, but after moving to Boston and meeting her husband, a New England native with family roots going back to the Mayflower, she became enthralled with New England cuisine — in particular, the popover.
"It's such a perfect canvas," she said. "It's hollow inside, and crusty outside. There's so much stuff that you can do with it. It reminds me of what people have done with the crepe. They've stuffed it and topped it with all sorts of things. Why don't we do it with the popover?"
So she got to work. Along with popover classics ($3.50–$5) like original, cheese, and onion, the menu includes specialty popovers ($6.50–$7.50) that Cabuquit-Love created through a mix of research, experimentation, and recipes she found in her mother-in-law's recipe box. The Royal is stuffed with ricotta and topped with maple berry compote and fresh berries; the Queen Bee is honey-glazed with lavender cream filling. On the savory side, a cheese popover dubbed the Jester is filled with cream cheese and dusted with bacon seasoning, while the Yorkshire is covered in warm gravy and finished with shredded beef and cheese.
Also on the menu: various takes on the Rum Tum Ditty, an old New England staple featuring sautéed tomatoes, onions, eggs, and melted cheese, which Cabuquit-Love considers a sort-of open-faced sandwich. In addition to the classic iteration, she also has created the Taj Majal topped with basil and curry chicken, as well as the North End, featuring fresh mozzarella, Italian sausage, and prosciutto.
To start, Popover King will be open daily from 6 a.m. to 6 p.m., serving pastries, popovers, and Rum Tum Ditties, as well as coffee from the North Shore's Atomic Coffee and tea from Fauchon, a Parisian company. (Cabuquit-Love said she went antiquing for the last few months to find the perfect tea cups.) A high tea hour will begin at 3 p.m., when items like finger sandwiches and scones will be served.
An official grand opening will take place in April, at which point extended hours and an expanded dinner menu will become available.
"I feel like it's something new in the area," Cabuquit-Love said. "I don't think there's a restaurant [here] that just screams New England."
Popover King; 74 Canal St., Boston; daily from 6 a.m.–6 p.m.; popoverking.com