Restaurants
Shakshuka and Yemenite fried chicken are coming to Sharon
Simcha owner Avi Shemtov wants to redefine how we view Israeli food.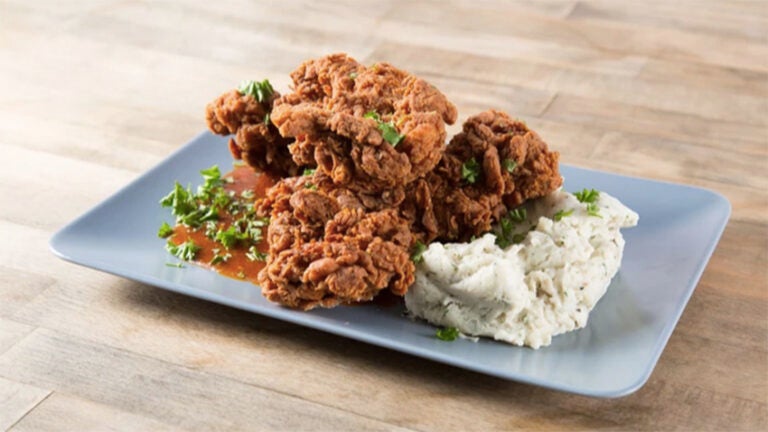 "If I could make one thing for the rest of my life, it would be shakshuka," said Avi Shemtov.
The founder of the Chubby Chickpea, a Middle Eastern food truck that launched in 2010, will finally get the chance to serve the tomato-drenched egg dish — and anything else he wants — when Simcha, his first brick-and-mortar, opens on Tuesday.
Shemtov has been dreaming of Simcha for at least five years, workshopping a restaurant that he said will highlight the global culinary journey of the Israeli people. The Sharon native's grandparents fled from a turbulent Turkey in 1949, giving up wealth for a life in Israel, where Shemtov's grandfather began running a vegetable stand.
"When they came to Israel, they all of a sudden were surrounded by people from Yemen and Iraq and Kyrgyzstan and Europe," Shemtov said. "That changed us. That changed our food forever."
Simcha's menu is a reflection of that change, with dishes like pumpkin baba ghanouj and Turkish eggplant salad highlighting Shemtov's Middle Eastern, Mediterranean, and Sephardic roots.
"A dish I'm super proud of is our octopus dish," he said. "What's more Spanish than octopus, and what's more Sephardic than something that's from the sea, has ties to Spain, and has heat?"
For the past two years, Simcha has taken shape as a pop-up in Roslindale, where Shemtov was able to play around with dishes that have now found a home in Sharon. On the menu, diners will find Yemenite fried chicken with labne and smoked potato purée, whole-roasted cauliflower with soom tahini, and ras el hanout pork belly with pickled apple sauce. For brunch, which will take place on Sundays, there will be the aforementioned shakshuka, along with French toast, lamb belly hash, and a duck Benedict. However, Shemtov said, all of that might change.
"We're going to print the menu every single day," he said. "I always said, if I ever open a restaurant, it would be something where I could do what I want. I'm selfish, but I think I've earned it. For me, I don't want to write one menu and come to work every day and go, 'Ugh, these Brussels sprouts are not great.' I want to be able to come in and do [a dish] we've been playing with."
Despite the Chubby Chickpea's popularity in Boston, Shemtov wanted to open Simcha in his hometown. He has been going to Ward's Berry Farm in Sharon for produce since he was a kid, telling the owners that they almost have more say in the Simcha menu than he does. Plus, he said, it's a town that has supported his dream from the get-go.
"It's been an incredible experience. The support from the town and the people here has been unreal. Plus, Rachel Klein just opened The Square [Kitchen & Bar] — all of a sudden, we have two great restaurants in town."
Shemtov enlisted pastry chef Kate Holowchick, previously of The Townshend and the Broadway Restaurant Group, to consult on Simcha's pastries. He also called out Kyle Crusius, who is now the head chef at the Chubby Chickpea, as one of the biggest driving factors behind Simcha's opening.
"If Kyle hadn't walked into my life, there'd be no Simcha," Shemtov said. "I always dreamed I could clone myself; now I just want to clone Kyle."
In the process of opening his new project, Shemtov also has been working on a Simcha cookbook, which he said is still being shopped around to publishers. His goal, with both the restaurant and the cookbook, is to take Israeli food in a new direction.
"I think that modern Israeli cuisine is trendy right now," he said. "What I'd really like to see is it pushed forward in a very organic and authentic way. I'm not a believer that you have to be Mexican to make Mexican food, so I don't think you have to be Israeli to make Israeli food — but I do think you have to [have integrity toward] the genre."
Simcha; 370 S. Main St., Sharon; Tuesdays–Saturdays from 5 p.m.–10 p.m., Sundays from 11 a.m.–3 p.m.; simcharestaurant.com