Restaurants
Take a first look inside Night Shift Brewing's colorful, new innovation brewery
The brewery, cafe, and restaurant opens on March 20.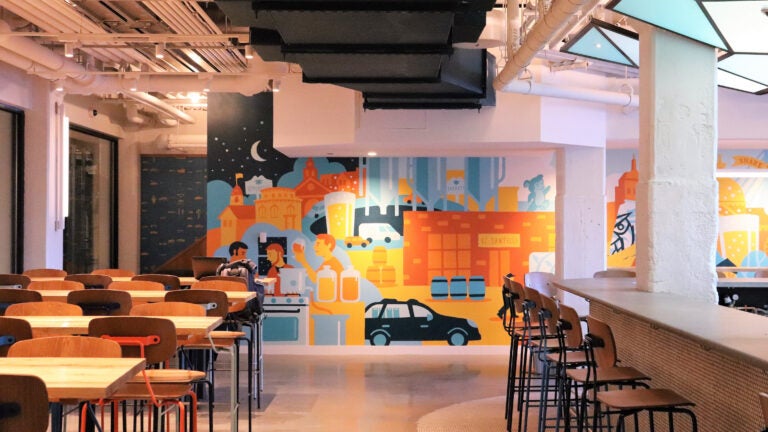 If there are those who doubt Night Shift Brewing's success in the Boston-area beer world, look no further than a mural at its new Lovejoy Wharf brewery.
Painted by local artist James Weinberg, the mural is a chronological timeline of the beer company, starting with its humble home-brewing roots. There are the founders — Rob Burns, Mike O'Mara, and Michael Oxton — mixing up one of their first batches in a Somerville kitchen in 2007. There's the Subaru that they used as their first delivery vehicle, carting cases to and from Night Shift's original brewery on Charlton Street in Everett. There's the current Everett brewery on Santilli Highway, which opened in 2014 with 30,000 square feet, plus the Owl's Nest beer garden on the Esplanade.
And then there's Night Shift Lovejoy Wharf, an industrial building with the Bunker Hill bridge painted behind it. The brewery, restaurant, and cafe will open to the public on Wednesday, March 20, in the burgeoning West End neighborhood as Night Shift's most creative project to date.
"LET'S GET WEIRD"
Night Shift Lovejoy Wharf sits a quick jaunt away from TD Garden, located between the recently opened Alcove restaurant and the world headquarters of Converse. The brewery calls Lovejoy its innovation factory, and for good reason: One new beer will be produced here each week, with the kitchen and brewery swapping ingredients and ideas to create beers and dishes that complement each other.
"We've established a reputation for being pretty experimental with our recipes," Oxton told Boston.com on a recent visit to the brewery. "When we started, one of our phrases was 'culinary-inspired beers,' which is part of our DNA. I think you'll see it come to fruition even more here."
To that end, head brewer Anna Jobe will be experimenting with new ingredients, recipes, and styles that the brewery hasn't delved into fully at the Everett location. On the opening beer list, patrons will find the Fixed Wing, an ale with sweet cherries, butterfly pea flower, lemon, and lemongrass; and the Living Dead, which uses molasses, pineapple, pink guava, lime, and cinnamon. The 30 tap lines at Lovejoy will include a selection of Night Shift staples — Nite Lite, Whirlpool, Santilli, and The 87 — and Lovejoy exclusives, including the Lovejoy house IPA, a recipe that emerged after the brewery presented four versions to the public last year and gave them the opportunity to vote for a favorite. (Lovejoy #4 emerged victorious.)
In the kitchen, a mix of shareable plates, salads, and sandwiches will be available, with ingredient names you might recognize from the beer list. Salad dressings and other condiments will include the Santilli Caesar dressing, Awake balsamic vinaigrette, and Morph Island drizzle. Josephine sliders will be stuffed with barbecue pulled pork and beer slaw, quinoa bites will come with blackberry Weisse marmalade, and a number of other dishes — spent grain pretzels, the Shifty burger, the founder's mac and cheese — will use house beer cheese. If there's a line between the kitchen and the brewery's pantries, it's a blurry one.
MORNING BUZZ
But before the brewery and restaurant open for the day, there is the cafe, which will start serving the public at 6 a.m. The small room near the brewery's entrance will offer breakfast sandwiches and pastries from head baker Lira Mondal, along with coffee from Night Shift Roasting — yes, the brewery is getting into the coffee bean game, too.
Beans will be roasted at the Night Shift Distributing headquarters in Chelsea and served at Lovejoy, with a potential goal, Burns said, to expand into the coffee shop realm.
"As we learn more, there might be some stand-alone future Night Shift Roasting coffee shops that don't sell beer, just focus on great coffee," he shared.
For the three founders, a roasting company wasn't always in the plans, but the similarities between coffee and beer were too stark to ignore.
"I hated coffee because I thought it tasted like cigarette ash and was super bitter," said Burns, who also is the president of the Massachusetts Brewers Guild. "And then I discovered that a lot of the flavor profiles I loved in beer existed in coffee. I just wasn't looking in the right places or getting the right beans."
ALL STYLES WELCOME
At just under 300 seats — plus patio seating that will host 88 guests once the weather warms up — the Lovejoy brewery is Night Shift's largest location to date. A 360-degree bar is the room's central focus, while additional tables next to the brewhouse let guests peek in on the 10-barrel brewing system. Banquettes and communal tabletops fill out the rest of brewery.
As does art. Lots of it. And every piece of it tells a story, from the origin mural to a neon sign that hangs above a nook by one of the bathroom areas. The sign reads, "All Styles Welcome," which Oxton said references genders as well as beers. Next to the all-gender bathroom stalls is a nursing room for new mothers and a changing table — amenities you'd be hard-pressed to find in other breweries.
Night Shift's most popular labels come to life through other pieces of art around the space. On one wall, an owl dotted with constellations is a nod to the brand's logo and nocturnal theme; on another, a light installation mimicking Nite Lite's label glows above a more cozy, intimate booth section.
Even the wallpaper near the bathroom, depicting etchings of submarines, has a meaning.
"This used to be a submarine signals manufacturer," said O'Mara, referring to the building's former life. "It was for navigation aids for ships. We found an old booklet or pamphlet from this company that was in this building in the 1900s and turned [the etchings] into wallpaper."
"I DON'T KNOW IF WE'LL EVER MAKE SOMETHING BETTER THAN THIS"
Burns, O'Mara, and Oxton said that Night Shift's Everett headquarters can feel like it's miles away to those living in Boston.
"We really wanted to be part of the Boston community and make Night Shift the next Boston beer brand," Burns said, noting that the city of Boston is home to less than 10 breweries. "We spent a couple years looking for where Night Shift would fit in. I think we looked at 50 spaces over a two-year period to try and find what felt authentic to us, and we fell in love with this space."
Now they hope that those looking for a drink before or after a game or concert will have access to craft beer and food in a space that gives off the welcoming vibe fans are used to at their Everett location.  
Still, the three friends said they can't fully comprehend how they got to Lovejoy Wharf.
"Our business plan didn't even have a taproom in it when we started," Burns said, reminiscing. "And then we had a taproom with four bar stools, and then we moved to our current facility in Everett and we had 80 seats. Now we have almost 200 seats in Everett and 300 [here]. At each step, we've tried to make it better and evolve the business. We've been saying, 'I don't know if we'll ever make something better than this.'"
He paused, considering.
"We could do like a stadium beer brewery, 50,000 people," he said, laughing.
Night Shift at Lovejoy Wharf; 1 Lovejoy Wharf, Suite 101; Cafe: Mondays–Fridays from 6 a.m.–10 p.m., Saturdays and Sundays from 8 a.m.–10 p.m.; Kitchen: Sundays–Wednesdays from 11:30 a.m.–11 p.m., Thursdays–Saturdays from 11:30 a.m.–1 a.m.; Brewery: Daily from 11:30 a.m.–1 a.m.; nightshiftbrewing.com
Watch a Facebook Live of the grand opening below (video may take a moment to load):
https://www.facebook.com/boston/videos/302544507105358/