Restaurants
After five years, The Lost Kitchen is bigger than ever. Owner Erin French just wants to keep it small.
The seasonal restaurant in a Freedom, Maine, gristmill just released details on its 2019 reservation process.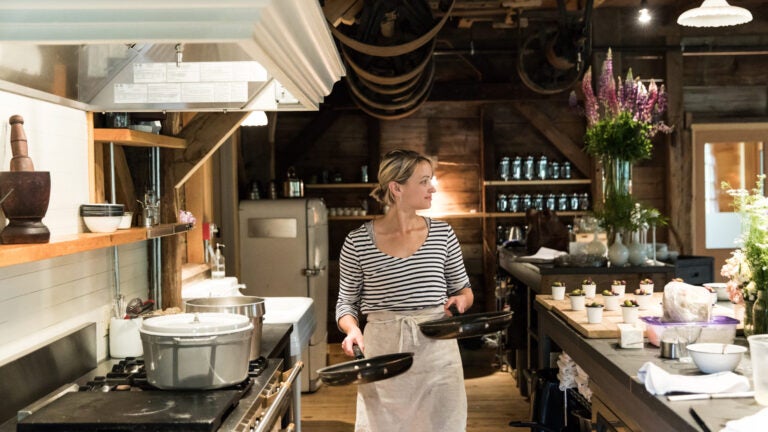 There's a natural progression that often takes place in the restaurant industry. A chef opens a restaurant. If it does well, she opens another one, and then maybe another. Perhaps she does a stint on "Top Chef," and she goes on to form a culinary empire.
But after the wild success that Erin French, owner and chef of Freedom, Maine's The Lost Kitchen, has experienced with her farm-to-table restaurant she runs with a roughly 15-person staff  — almost exclusively women, many of whom are local farmers and personal friends — she doesn't want to do more. In fact, she wants to do less.
"I still have no intentions of opening another restaurant," said French, who was nominated for a third James Beard Award (Best Chef: Northeast) in February. "I don't know if that's the right decision or not. It's this industry where, classically, if you wanted to be successful you have to follow this path, and it has to be bigger, more. If anything, I've taken this other approach where I've scaled back and said, 'Smaller and less.' Each year, I've looked at our restaurant schedule and said, 'OK, let's shave off a day here, or, 'We're moms; why don't we go down to three days a week in October so it's easier for us to get our kids to school?' Whatever it is, we're making lifestyle decisions."
In contrast to so many chefs whose lives are buried within their restaurants, French calls The Lost Kitchen "an extension, a complement more than anything."
"If I'm happy, then whatever I'm doing at that restaurant, it's going to thrive," she said. "If I'm thriving at home, then I can thrive there. The moment that I get miserable, you're going to taste it in my food."
After starting as a supper club in 2010, The Lost Kitchen went through a number of iterations before opening at an old gristmill in 2014 in Freedom. Since then, its popularity has exploded. It catapulted into national fame in 2017 thanks to headlines like, "Lost Kitchen: 10,000 phone calls for a 40-seat restaurant," back when the restaurant only took reservations by phone and received 10,000 calls in 24 hours.
On Sunday, the restaurant that has become the stuff of New England legends released its guidelines for scoring a reservation when it opens for its sixth season from May through New Year's Eve. The format is the same as last year's: Potential guests will need to mail in a 3-by-5-inch notecard in an envelope addressed to The Lost Kitchen. One side must include the guest's contact information, while the other side is up to the mailer's imagination.
Twenty thousand cards arrived in 2018 — cards that were filled with poems, recipes, drawings, and stories, as well as cards that were completely blank on one side.
Reservation requests will only be accepted if the cards are postmarked between April 1 and April 15, so timing is key. Cards are drawn at random — though French said that some submissions last year were so strikingly beautiful that the staff was immediately drawn to them. If you're lucky, you'll receive a phone call to coordinate a time, date, and party size for your reservation. If you're not — well, better luck next year.
"We still have all the cards from last year," said French, explaining that at the end of last season, they created a book that included all of the chosen cards. "Each evening, we'd pull out the cards for the people who were coming in, so it gives us this awesome opportunity to understand who's coming for dinner. We're making them this personal meal, and you get little snippets of their lives. It's like you know this stranger before they come in, even if [it's just] their style of painting."
NEXT UP: A MEMOIR
French does have one new project in her life: a memoir, which she said will be published sometime in 2020. In 2017, she released a cookbook — "The Lost Kitchen: Recipes and a Good Life Found in Freedom, Maine" — which included snippets of her life and the struggles she endured along the way. People were hungry for more, she said, and the idea of a memoir was floated.
"It's been a little stressful in terms of putting all of those old thoughts on paper, taking all these emotional boxes off the shelves that I've put way out of reach so long ago," French said. "Now I'm opening them back up and going to a place that was like eight, 10, 20 years ago."
Writing the memoir has given her a chance to reflect on the origins of The Lost Kitchen.
"Sometimes it's crazy if I take a step back and I look at it overall," French said. "People come to me and say, 'What was your business plan?' Or, 'This was a brilliant idea.' I have to admit to you: I didn't have a business plan, and this wasn't a brilliant idea. I needed some sort of project to put myself into, and I was so clouded that I couldn't even see how crazy it was."
It's also allowed French to reflect on her love of Freedom, a town with a population of roughly 700 and one that has given her the life she wanted. She believes that Maine's produce could take on California's, and that living in Maine allows her to balance running a restaurant while raising a family. She's also in awe of the many women who are running restaurants in the state, naming Melissa Kelly at Primo in Rockland, Devin Finigan at Aragosta in Stonington, and others as those who are leading the charge.
"It's not easy living up here, but we chose it for a reason," she said. "There are women who are cooking up here in Maine who have been chefs in Vegas, who had staffs of hundreds and hundreds of people, and now are running these sweet bakeries because they're like, 'I'm going to choose life.'"
She laughed.
"We're not cooking in Maine to get rich or famous."
The Lost Kitchen; 22 Mill St., Freedom, Maine; findthelostkitchen.com