Restaurants
Want to become a member of Boston's first gin club? You'll have to get through 92 drinks first.
Here's everything you need to know about the gin club at Our Fathers.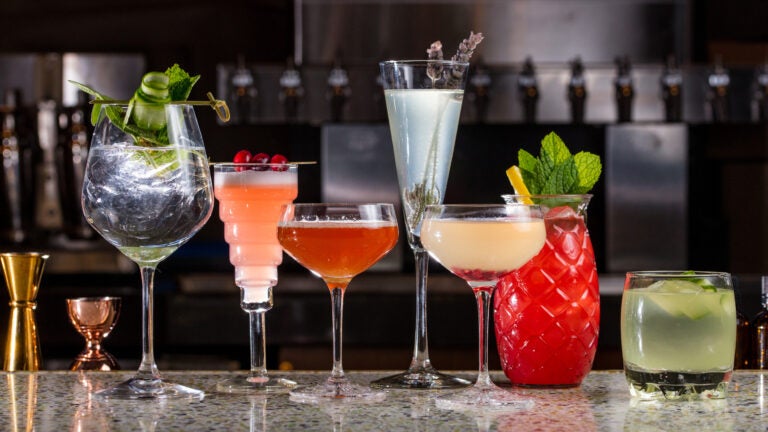 Detractors of gin might tell you that the spirit is too floral, that it tastes like a pine tree, or that they had a bad experience from too much Tanqueray in college. Fair enough. But they also may not have tried a smooth sip of Japan's Nikka Coffey Gin, or the just-sweet-enough Old Tom Gin from Hayman's.
You can taste both — and 90 others — by signing up for Boston's first gin club. Launched in October 2018, the gin club at Lower Allston deli and gin bar Our Fathers requires dedicated drinkers to sip their way through 92 gins, curated from the bar's 140-plus varieties, in order to become an official member. There are a number of ways to try each spirit: neat, on the rocks, as a gin and tonic or martini, or in one of the bar's classic or custom gin cocktails. It's a time-intensive endeavor.
"Gin is a funny thing," said Our Fathers co-owner Dave DuBois. "People have this instant idea of what it is, but the more you drill into gin, the more range you see in it."
DuBois and his co-owner, Phil Audino, came up with the idea of a gin club following the success of a whiskey club at their Fenway sister restaurant, Citizen Public House. But while whiskey has been a popular drink of choice in Boston bars for years, gin is, as DuBois puts it, "still in its adolescent stage."
"When it came time to open Our Fathers, we'd already had this idea percolating that gin is a real under-appreciated spirit, and it has so much history and dimension and depth," DuBois said. "We were really surprised that there wasn't more range in Boston for this type of thing."
The gin club's list is divided up by nine regions — US East Coast, US West Coast, US North Coast, Europe, Asia, Mexico, South America, England, and Scotland — and two gin varietals: Old Tom and Genever. On it, you'll find well-known brands like Beefeater and Hendricks, along with more obscure bottles like Argentina's Apostoles Mate and New York's Tommyrotter. Those who manage to work their way through the entire list to become a member will receive a custom engraved, silver-banded martini glass that is kept at the bar for future visits, along with a personal gift from Our Fathers.
Sara Alvernaz joined Our Fathers in February 2018 as its head bartender, and also leads the informative gin tasting classes — which start at $40 — that take place each month.
"I just see it as a great opportunity to learn more about how people like to drink," she said of the gin club, which does not require a sign-up fee. "It can be extremely overwhelming when people walk in and see the list. But [the club] is about learning all about the spirit and what you can do with it."
Alvernaz said that, last week, the gin club received its first member when an Our Fathers regular completed the list. The longtime customer was initially committed to gins from Scotland but, by working his way through the list, was able to expand his tastes into other countries.
In order to sign up for the challenge, which currently has around 200 people attempting to complete the list, all you have to do is fill out a club card at Our Fathers and start sipping. Alvernaz said there isn't one right way to go about it: Some people make their way down the list in order, while others concentrate on trying gins from one particular country before moving on to another region.
"I usually recommend that people pick a gin, and I'll advise them on what cocktail it would work with," she said. "That way, we can try to educate them while they drink."
Our Fathers; 197 North Harvard St., Boston; Mondays–Thursdays from 11 a.m.–11 p.m., Fridays from 11 a.m.–1 p.m., Saturdays from 10:30 a.m.–1 a.m., Sundays from 10:30 a.m.–10 p.m.; ourfathersboston.com