Restaurants
Meet Anna Jobe, the brewer behind Night Shift's most experimental beers
Nothing is off limits at the new Lovejoy Wharf innovation brewery.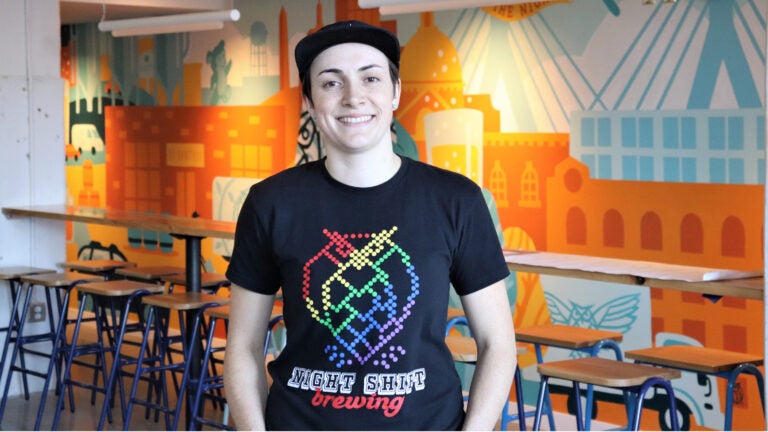 When Night Shift opens its new innovation brewery on March 20, the Lovejoy Wharf beer destination will be the birthplace of some of the brand's most experimental beers to date. Leading the charge is innovation brewer Anna Jobe, a longtime Night Shift employee who first joined the company as a volunteer — and is now one of its star players.
Before Jobe started brewing beers with juniper and peppercorn and unorthodox grain combinations, she lived in Philadelphia, where she worked in the pharmaceutical industry. In 2012, after deciding that the industry — and sitting behind a desk — wasn't for her, she moved to Somerville. There, Night Shift immediately became a part of her life.
"The funny thing is that the first full day I had in the Boston area, I had gone over to check out Night Shift because I had heard about them," she said. "I started to volunteer on their brew crew. Back then we were doing 750mL bottles, so we would label them, hand date, and cork and cage them. It was a lot of bottling and bottle labeling."
She then moved on to doing more cellar work, cleaned fermenters, and worked on various aspects of brewery production. Jobe joked that she pestered the company into finally giving her a full-time job, but Night Shift co-founder Michael Oxton said that was an easy decision because she was an incredibly hard worker.
"We'd get a lot of volunteers in the beginning," Oxton said. "They'd clean the mash tun and do the dirty work and you wouldn't see them ever again. But she showed up the next day and the next day and just kept coming back until we were able to offer her a real paid job."
At Lovejoy Wharf, Jobe will experiment with new ingredients, recipes, and styles, and will double down on the brewery's dedication to culinary-inspired beers. She plans to work with unique spices and herbs that aren't always utilized in beer, such as rosemary and juniper.
Some of the first few, as-yet-unnamed beers to be released will include a German-style Kellerbier, a rye porter, a Lithuanian farmhouse ale, an English barleywine, and an IPA that was fermented with Voss Kveik, a Norwegian farmhouse yeast that Jobe said she's been playing around with.
"My initial plan is to dial in the brewhouse before I get a little crazy," she said. "But I do have some plans to work with things like mint, Saskatoon berries, and wine grapes. In general, I'm really looking forward to using local New England products that will be more accessible on a smaller scale."
With the new opening, Night Shift will also introduce Night Shift Roasting, a coffee branch of the company that roasts beans at its distribution center in Chelsea. Jobe said that working with Night Shift Roasting to create coffee-infused beers will definitely be in the future.
"I've been sitting at a desk for the past year and a half, doing more management and ordering and making sure the brewery [in Everett] is running correctly," she said. "So getting back to recipe development and brewing and getting my hands dirty is definitely something that brings me joy. It's going to be good to really dive deep into the details and continue to learn as a brewer."
When Jobe isn't brewing experimental batches at Lovejoy Wharf, she's out looking for the best food and beer restaurants in the Boston area. Here are some of her go-to spots around town:
One-two punch
"Brewer's Fork and Row 34 both have an incredible beer list that includes local and international beers, which I think is really fun," Jobe said of her favorite restaurants with a solid beer list. "And they both have super elevated food programs, so those are some really good experiences for me in the city."
Beach day
"I live up in Salem, and I've been getting to know that area now that I've moved out of Somerville," Jobe said. "Crane Beach is one of my favorite spots in this area. It's a little far, I guess, but it's my favorite [place] on the North Shore. It's absolutely gorgeous. It's a nature preserve, so it's fairly untouched. You can see for miles over there."
Old haunts 
"Living in Somerville and Cambridge was really great, and I always like to show people my favorite spots in that area," she reminisced. "I spent quite a lot of time at Trina's [Starlite Lounge]. That was two blocks from my house. They are fantastic; I love those people. Also, The Kirkland Tap & Trotter had just [opened] when I moved there, and they have a pretty killer brunch."
Beer run
"I used to go to the Wine & Cheese Cask," Jobe said of her favorite bottle shops. "And Craft Beer Cellar, no matter where you are. They're all over the place now, which is great. There's one near my house — they always have a great selection of local beer."
Will travel for beer
"There are two breweries that are close to me on the North Shore that just opened: Essex County Brewing and Channel Marker Brewing," she said when asked about new breweries that she is excited about. "They're both up in the Peabody area, and I was planning on checking them out soon. I've also been wanting to check out Fox Farm in Connecticut."