Restaurants
After 36 years, Sorella's in Jamaica Plain is closing its doors
The breakfast institution will serve its last plate of cornbread French toast on March 31.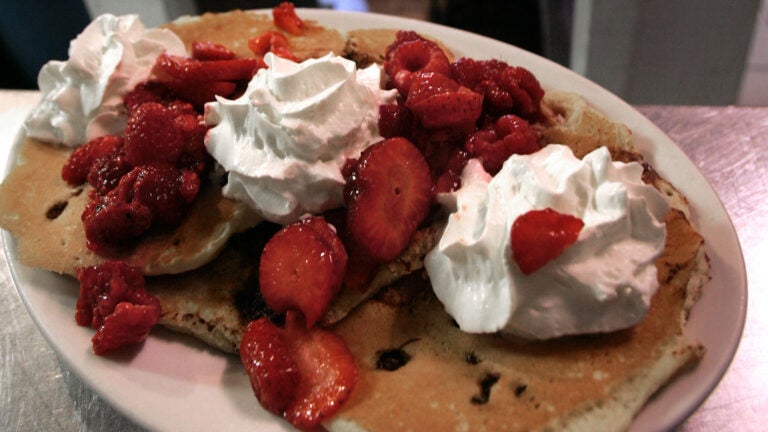 Walk by Sorella's in Jamaica Plain on any weekend morning, and you can't miss the crowd congregating outside its doors. The tiny breakfast and lunch spot with a massive, seven-page menu has been a vital part of the neighborhood for 36 years, serving regulars who have been coming for just as long. But on March 31, Sorella's will flip its last stack of pancakes.
The restaurant recently told the Jamaica Plain News that it will be closing at the end of the month. Last summer, a portion of the building that houses the restaurant went up for sale, and Sorella's owner Antoinette Elias — who also owns the Dedham Diner — decided that it was time to sell the business.
Antoinette and her sister Ellie Elias opened the cafe in 1983 and named it Sorella's — "sisters" in Italian. While Antoinette went on to open and run the Dedham Diner, Ellie ran Sorella's until she passed away in 2015. Antoinette took over, but, according to her niece, Lisa Bolys, it's been hard managing both restaurants.
"It's time. We're older now," said Bolys, who has been working intermittently at Sorella's since it opened. In fact, the restaurant's staff is comprised largely of family members — Bolys said that she and her cousin manage the cafe most days, taking orders and handling the money.
Over the years, Sorella's has made a name for itself with its lengthy, affordable breakfast menu serving everything from crepes to cornbread French toast to countless omelet options. In 2009, the restaurant added an additional dining room to keep up with demand — and still the lines formed. Even operating as a cash-only business hasn't detracted from the restaurant's popularity.
For the remainder of March, Sorella's hours have been reduced to Thursday through Sunday from 7 a.m. to 1 p.m., and Bolys said they aren't planning on changing the menu or offering any specials before it closes. She just wants to see all the regulars one last time.
"I've met incredible customers over the years," she said. "I really enjoy the job, but all good things must come to an end."
Sorella's; 388 Centre St., Boston; Thursdays–Sundays from 7 a.m.–1 p.m. Cash only.
—
Correction: Antoinette Elias was incorrectly identified in a previous version of this article. Boston.com regrets the error.