Restaurants
Tea-inspired cocktails are coming to the Boston Public Library
You could borrow a copy of "War and Peace" — or you could sip on the new Map Room Tea Lounge's vodka-based version.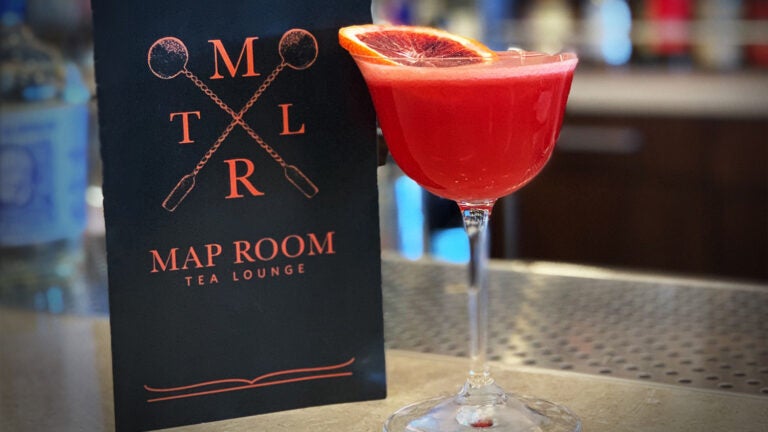 Tea time at the Boston Public Library is about to get twisted.
On Wednesday, the Central Library in Copley Square will open the Map Room Tea Lounge, a new bar serving tea-inspired cocktails. Nearly all of the drinks are named after literary classics and feature tea variations along with some form of booze. There's the Tequila Mockingbird, made with blood orange hibiscus tea-infused tequila, and the Dorian Gray, a vodka-based drink with blue flower earl gray tea. Catcher in the Rye is a rum cocktail made with apple berry tea-infused rye — a drink that might have persuaded Holden Caulfield to give up his usual scotch and soda.
The Map Room isn't the only change that has come to the Central Library. The former Courtyard Restaurant has been rebranded as the Courtyard Tea Room, providing the same afternoon tea service that has come to define the space while adding a new spring menu, select drinks from the Map Room's cocktail menu, and updated furnishings. The biweekly Friday fashion shows also will continue.
Led by The Catered Affair, which operates the library's dining services, the Map Room was designed to expand the library's tea experience while offering something completely new. 
"The Courtyard Tea Room is white linen, very elegant, very classic, but the Map Room is more exposed brick, with warmer tones and a rustic vibe," said Ryan Clarke, conference and marketing coordinator at The Catered Affair. "Some might see the tea experience as more traditional, lunchtime dining, and we wanted to do something more approachable for a younger generation."
To craft the cocktail menu, The Catered Affair tapped into North Cambridge-based company Mem Tea, along with Martignetti, a New England wine and spirits distributor. Giving the cocktails literary names was a nod to the historic McKim Building where they'll be created, Clarke said.
"If our home is the library, we should embrace it," he said.
In addition to cocktails, the Map Room also will offer a bar menu from Boston Public Library chefs Dan Martin and Kathi Wagoner, including a cheese and charcuterie board, desserts, and a comprehensive assortment of tartines, with salmon, duck confit, and white bean options. On "Wisdom Wednesdays," guests will be able to partake in tea readings, while "Treble Thursdays" will feature local, classical musicians. 
While the lounge doesn't operate during traditional late-night bar hours, Clarke said that he hopes it will be an after-work destination for those who don't maintain a traditional 9-to-5 schedule, and a welcome stop for tourists between visiting sites and for locals between errands. 
"We want people to rethink what afternoon tea might be," he said.
The Map Room will be in soft open starting on Wednesday, and a grand opening celebration will take place on May 21.
Map Room Tea Lounge; 700 Boylston St., Boston; Wednesdays and Thursdays from 3 p.m.–8:45 p.m., Fridays and Saturdays from 11:30 a.m.–4:45 p.m., Sundays from 1 p.m.–4:45 p.m.; librarytea.com/maproom. Courtyard Tea Room; 700 Boylston St., Boston; Wednesdays–Saturdays from 11:30 a.m.–4:45 p.m., Sundays from 1 p.m.–4:45 p.m.; librarytea.com/courtyard