Restaurants
Roslindale's first permanent brewery will open this summer
Distraction Brewing launched a Kickstarter campaign to increase production.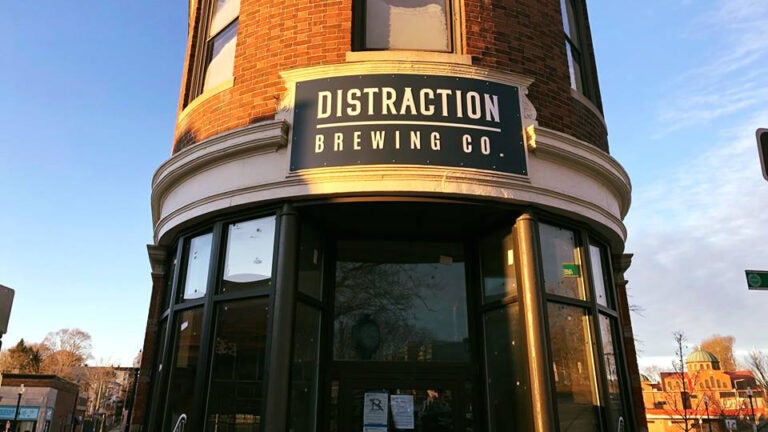 When Mike Estey, Patrick French, and Justin Garnache met a decade ago through their preschoolers, they discovered that they had more in common than packing lunches and shuttling kids to and from school. All three were passionate about beer and home-brewing, and decided to try their hand at brewing beer together.
They called their venture Distraction Brewing, paying tribute to "the idea that craft beer has been a pleasant distraction in each of our lives," French said.
On Sunday, Distraction launched a Kickstarter campaign to secure additional funding for the brewery's first taproom, projected to open in May at 2 Belgrade Ave. in Roslindale. The team is already in the final stages of the build-out, and French said that the Kickstarter isn't necessary to open the brewery, but to maximize the output of beer. The fundraising page details how the money raised will go toward upgrading equipment like a hot liquor tank, mash tun, and boil kettle, along with improving taproom amenities like the sound system. 
"This is really about being able to increase our capacity to meet more of a demand than what we originally thought," French said.
He also noted that Roslindale Village plans to convert the north section of Birch Street, which borders the brewery, into a pedestrian walkway, which will give Distraction the space to open an adjacent beer garden and increase its capacity.
Although nearby Jamaica Plain is home to Samuel Adams and Turtle Swamp Brewing, Roslindale does not currently have a permanent brewery. In November, Turtle Swamp opened a winter beer hall in Roslindale's Substation Building, but the offshoot is scheduled to close in May. When Distraction opens, it will be Roslindale's first permanent brewery.
"We've all lived in Roslindale at significant times in our lives," French said. "We love the area and the vibe, and were always looking for a good spot in Rozzie. It has a great town square."
French also said that the brewery plans to collaborate with other local businesses — like The Square Root, a recently opened cafe, co-working space, and live entertainment venue — to organize events like open mic and comedy nights.
Distraction will have an initial lineup of six beers, including its flagship beer, a New England IPA called Hoppily Distracted, along with the RoslinPale, the Parkway Porter, the Belgrade Tripel, the Bank on Brown, and the Doubly Distracted. TVs, music, and games will be on hand for entertainment, and French said they hope to offer food from food trucks or local pop-ups.
The Kickstarter page is asking for $15,000; as of publication, the campaign had received a little over $2,600 with 29 days to go. Pledges start at $1, and gifts include a bottle opener and bin ($25 or more) and a 64-ounce Distractor growler ($200 or more).