Restaurants
Fenway Park will offer new menu items for the 2019 season. Here are 5 to look out for.
Two decadent desserts are included in the refreshed lineup.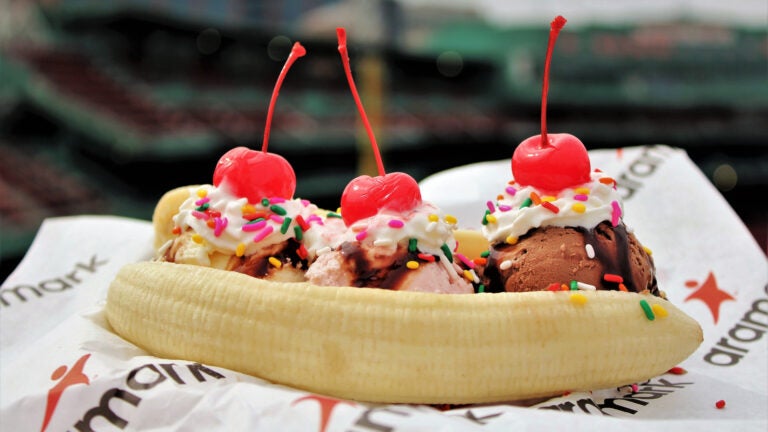 When the gates at Fenway Park swing wide on April 9 for a home opener against the Toronto Blue Jays, a bunch of new items will be on the menus at vendors throughout the stadium. Aramark, the food and beverage partner of Fenway Park (and eight other ballparks), isn't releasing its complete 2019 Fenway lineup until next week, but we got a peek at what's new to the roster so far:
Banana Splitter: Anyone with a sweet tooth will be pleased to find this behemoth creation at the concession stands. A scoop each of vanilla, chocolate, and strawberry ice cream will be nestled between two banana halves, drizzled in hot fudge, and topped with whipped cream, sprinkles, and a cherry.
Brownie sundae: So maybe banana splits aren't your thing. How about the park's new brownie sundae instead? A chocolate brownie will come topped with a scoop of vanilla ice cream, whipped cream, sprinkles, and a cherry.
Buffalo chicken topped tots: This one is not for the faint of heart. Shredded Buffalo chicken will be spread over a mound of fried tater tots and accented by crumbles of blue cheese and chives.
King's Hawaiian pulled pork sandwich: For anyone who loves a King's Hawaiian roll, this is the sandwich to go for. Between halves of sweet bread, pulled pork will be smothered with smoky bacon barbecue sauce and finished with a scoop of pineapple slaw.
LBLT: This upgraded BLT will see fresh lobster meat added to crispy bacon, leaf lettuce, and a sliced tomato between a toasted roll.