Restaurants
An East Boston pub is set to open with comfort food and so much whiskey
Brown liquors will shine at The Quiet Few.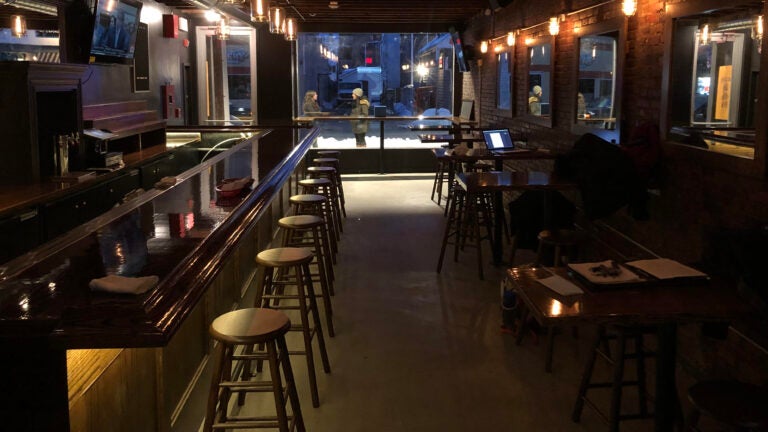 "I'm a big believer that your neighborhood pub is a cornerstone to the community," said Josh Weinstein, owner of the forthcoming East Boston bar The Quiet Few.
The Newton native and his wife, Linsey Weinstein, spent a handful of years living in New York City before deciding to make the move to East Boston's Eagle Hill a little over a year ago. Their goal: to open a place where neighbors could catch up, watch a game together, and enjoy a solid burger and some great whiskey. And so they dreamed up The Quiet Few, a casual restaurant and watering hole that will open on Sumner Street in Jeffries Point.
Scott Jensen, formerly of the Gallows Group, will head up the kitchen, making comfort food like chicken wings, grilled cheese, and burgers. Linsey will draw from her background managing and buying at wine shops to curate the wine and cordials program, while Josh will be in charge of assembling a whiskey collection.
"I want to start out with around 80 whiskeys and try to move up from there," he said. "I personally have a soft spot for bourbons and ryes, but there will be everything from Japanese whiskey to Irish whiskey to Scotch."
Named after a song from the rock band Tomahawk, The Quiet Few doesn't have a set opening date, but is scheduled to debut by April 10. Josh said that he and Linsey feel they chose the right neighborhood in which to open their first restaurant.
"I really like the community feel [of East Boston]," Josh said. "Once we started this project and got to know people in the neighborhood, they made us feel at home."
The Quiet Few; 331 Sumner St., East Boston; thequietfew.com; open by April 10