Restaurants
Peeps-flavored coffee and doughnuts are the newest items to land at Dunkin'
Is it really spring if you haven't eaten a Peep yet?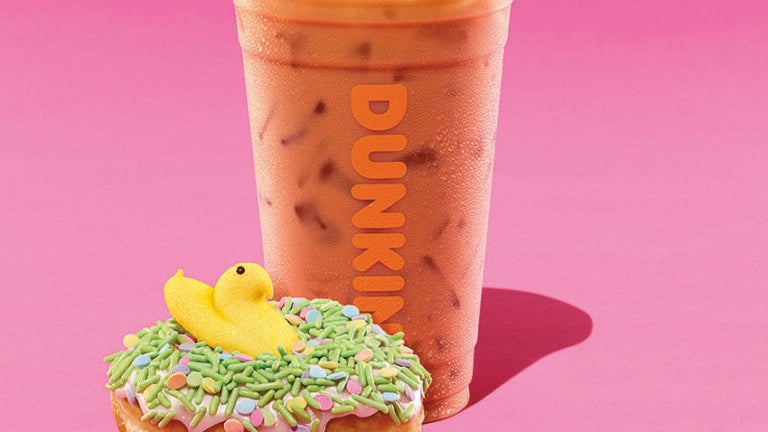 Iced coffee may be a year-round drink in Boston, but there's a time and a place for Peeps.
Beginning on April 1, Dunkin' will launch a handful of new spring items that incorporate the sugary pastel treat, including a Peeps doughnut and Peeps marshmallow-flavored coffee and espresso drinks. The doughnut will be decorated with white icing, a green and egg-shaped sprinkle blend, and a mini yellow Peeps Marshmallow Chick on top, like a bird in its saccharine nest. As for the drinks — hot and iced coffee, espresso, frozen coffee, and frozen chocolate — the Peeps flavoring will be blended into the beverages for an extra boost of sweetness.
The company is even taking its love of Peeps on the go. From April 2 to 4, a custom Dunkin' car will travel alongside a Peepsmobile, starting in Bethlehem, Pa., the hometown of Peeps, and driving toward Quincy, the birthplace of Dunkin'. The cars will stop at six Dunkin' locations along the way, offering the first 250 guests at each stop a free small Peeps marshmallow-flavored iced coffee, a Peeps doughnut, and other giveaways while supplies last.
Peeps aren't the only new items on the spring menu at Dunkin'. The company also will debut a chocolate cherry cold brew, iced tea lemonade and frozen lemonade, and a sweet sriracha bacon breakfast sandwich.
The new additions will all be available starting on April 1 for a limited time at participating Dunkin' stores.