Restaurants
Buttonwood will finally reopen in Newton this weekend
The restaurant closed after an electrical fire in May.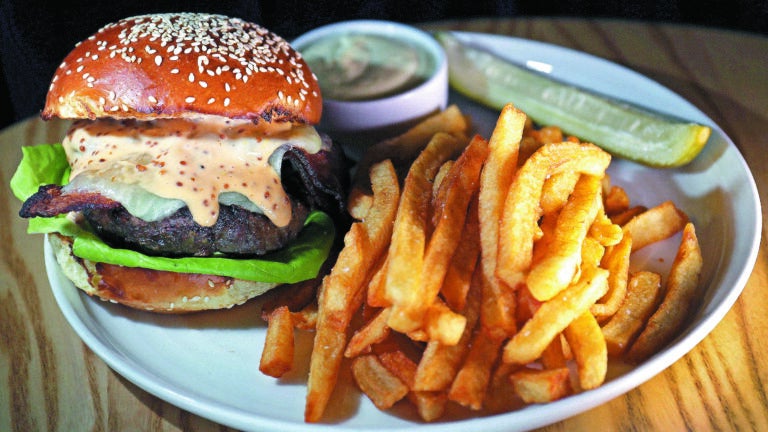 After 10 months of closure due to an electrical fire, Buttonwood in Newton Highlands will reopen its doors to expectant patrons this weekend.
The third restaurant from the team behind Sycamore and Little Big Diner garnered a three-star review from The Boston Globe almost immediately after it debuted in January 2018. But on the morning of May 29 — a mere five months after its introduction — a one-alarm fire broke out in the Mediterranean-inspired restaurant's kitchen. A few days later, the restaurant shared an Instagram post indicating that it would be closed until further notice.
Now, Buttonwood is ready for a comeback. Julia Bailey, Buttonwood's manager and wine director, told Boston.com that it will be reopening this weekend, and will serve dinner seven nights a week, with the addition of brunch coming soon.
"We haven't decided [on an exact day] yet," she said. "We're going to ease into it. A lot of people in the neighborhood are super excited about it, so we're going to see how it goes."
Although Bailey said that the changes made to the restaurant were primarily cosmetic, and that the layout — with 14 seats at the bar, 40 in the dining room — has remained the same, dealing with insurance was one factor in the delay of Buttonwood's reopening.
Despite being closed for so long, Bailey said that the restaurant was able to keep and pay its entire staff during the closure. But the best part, she said, has been seeing the excitement of the Newton community, many of whom have been dining at Sycamore and Little Big Diner in the meantime to support the team.
"[They've been] knocking on the door, calling us," she said. "We're feeling really positive and can't wait to open this weekend."
Buttonwood; 51 Lincoln St., Newton; Mondays–Fridays from 5 p.m.–11 p.m., Saturdays from 4:30 p.m.–11 p.m.; Sundays from 4:30 p.m.–10 p.m.; buttonwoodnewton.com