Restaurants
Trillium will open a beer garden and taproom in the Fenway this summer
The growing beer company also will move its Canton location.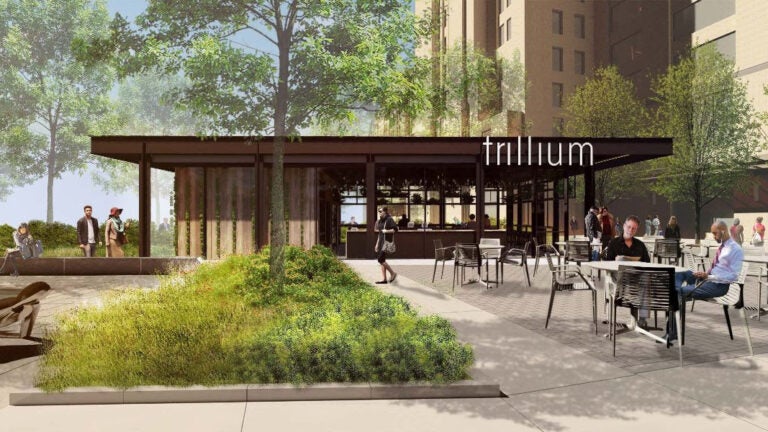 Trillium is making major moves this summer.
On Thursday, a post on the Canton-based brewery's website announced two new projects that will keep owners Esther and JC Tetreault busy throughout 2019: a new beer garden and taproom in the Fenway, and a new production facility, taproom, and restaurant in Canton.
The greenhouse-inspired Trillium Fenway will be situated on the lawn in front of the Fenway's art-deco Landmark building, now being marketed as 401 Park, a mixed-use campus from developers Samuels & Associates that includes the future home of Time Out Market.
The location will be a year-round taproom, comprised of a 1,500-square-foot structure designed by Studio Troika that, according to the post, will "blur the lines between outdoor beer garden and cozy indoor taproom." In the warmer months, patrons will be able to enjoy a beer on the taproom's open-air patio, while the enclosed glass walls will keep imbibers cozy inside during the winter. The taproom will accommodate 100 people, while the patio area will hold around 150.
"We were not actively searching for another location, but when Samuels & Associates approached us and explained their vision, we knew that we had to explore the opportunity," Esther wrote in an email to Boston.com. "The area has so much wonderful history and promise that we're excited to now be a part of it, and be able to share our beer with the neighborhood, regardless of the season."
Changes are coming to the original Canton facility, too. Trillium acquired a 19-acre section of the 65-acre former Reebok campus on Royall Street in Canton, and the company will consolidate its four current Canton spaces into the new location. A 140,000-square-foot industrial building will be turned into a brewery, restaurant, office space, event space, and more.
Esther said that the move will provide the company with permanence and space.
"The new location will allow great access to parking for both customers and employees, eliminate some of the challenges associated with managing multiple buildings and allow the bulk of our team to be under one roof," she wrote. "We've known for a few years that we needed to find a permanent home that would allow us to streamline our operations so we've been looking for opportunities that would allow us to stay in the area. We worked really hard to keep our roots in Canton."
Since opening in Fort Point in 2013, the company has cultivated a dedicated fan base. After Trillium moved to its current Canton facility on Shawmut Road, devotees took to lining up early in the morning to snag a limited-edition beer. In 2017, the brewery launched Trillium on the Greenway, an open-air beer garden, and in 2018 introduced Trillium Fort Point, a brewery and restaurant around the corner from its original home. A farmhouse brewery in Connecticut is also currently in the works.
But the company hasn't been without troubles. In November, the Tetraults came under fire for reducing hourly wages of tipped retail staff after opening the new Fort Point location. In response, the owners initially reinstated the original pay for tenured retail staff, then, shortly thereafter, further increased hourly compensation for all retail employees to between $15 and $18 an hour.
Trillium Fenway is scheduled to open in late summer, while the new Trillium Canton location is still under development and does not currently have a scheduled opening date.