Restaurants
The biggest restaurant openings and closings of March
Popovers and tea cocktails were in the spotlight, and a busy Jamaica Plain cafe called it quits.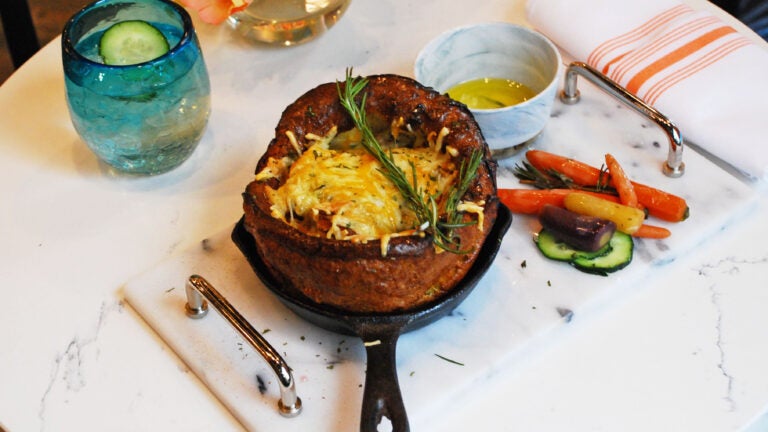 Can't keep up with all the restaurant and bar openings and closings happening around Boston? We highlight the need-to-know newcomers and surprising shutters that made headlines in the dining scene this past month.
Openings
Buttonwood
After a kitchen fire closed Buttonwood in May 2018, Newton residents waited to see when the third project from the team behind Little Big Diner and Sycamore would reopen. Well, the wait is over: Buttonwood opened its doors again during the last weekend in March, bringing back its beloved BW cheeseburger along with a globally-inspired array of appetizers, entrees, and sides. Stay tuned for brunch, which manager and wine director Julia Bailey told Boston.com will launch in the coming weeks.
Gustazo Cuban Kitchen & Bar
A Cuban cafe in Waltham expanded to Cambridge last month, serving dishes like piquillos rellenos, guacamole Cubano, and ceviche. The second outpost isn't just a carbon copy, though: Cambridge's location has a more developed cocktail program and serves a large selection of rum-inspired libations designed by Sam Treadway, owner of Union Square speakeasy Backbar. Pair mango-glazed salmon with a Havana Special, made with dark rum, pineapple juice, and orange liquor.
Kane's Donuts
One of Boston's most celebrated doughnut shops added a third location to its roster. Kane's is now open on Route 1 in Saugus by the iconic orange dinosaur, making doughnuts out of a 3,500-square-foot shop where customers are treated to a view of the baked goods being cooked, filled, and glazed in the open kitchen. A drive-through option allows commuters to pick up a doughnut or two on the go.
Map Room Tea Lounge
The Central Library hasn't traditionally been a place to unwind with a cocktail after work, but that changed in March when the Map Room Tea Lounge opened. Decked out with dark wood and dim lighting, the rustic bar serves tea-inspired cocktails that, for the most part, are a nod to literary works, like the Catcher in the Rye made with apple berry tea-infused rye. Stop by on Wednesdays when the lounge offers tea readings for a (supposed) glimpse into your future.
Night Shift Lovejoy Wharf
Sports fans heading to a game at TD Garden have a new spot where they can grab a beer. Night Shift Brewing opened its largest location to date last month, an innovation brewery that creatively merges ingredients between the kitchen and the brewhouse to produce wildly inventive dishes and drinks. The location also showcases Night Shift's newest project, Night Shift Roasting, with a cafe that offers coffee, breakfast sandwiches, and pastries.
Popover King
The West End has seen a steady increase in restaurant openings lately, and March's addition came in the form of Popover King, a quaint cafe that specializes in classic New England cuisine. That means you'll find the playfully named Rum Tum Ditty on the menu, along with Boston brown bread, corn beef hash, and sweet and savory popovers, which owner Coco Cabuquit-Love called "the perfect canvas" in a February interview with Boston.com.
Simcha
"If I could make one thing for the rest of my life, it would be shakshuka," Avi Shemtov told Boston.com last month. At Simcha, his new restaurant in Sharon, Shemtov is churning out Israeli food with a modern twist, like Yemenite fried chicken and huevos haminados (and yes, shakshuka). The chef launched the Chubby Chickpea food truck in 2010 and spent two years perfecting Simcha as a pop-up; now, in its brick-and-mortar form, Simcha is an enticing reason to make a trip to the suburbs for a meal.
Closings
Sassafras
Somerville restaurant Sassafras announced on March 23 in a Facebook post that it had officially closed, citing financial instability and the closure of the Broadway bridge as reasons for its shutter. The vegan and vegetarian eatery, which was previously known as Eat at Jumbo's, wrote, "We have sadly decided to close our doors and are taking steps to evaluate our future. We appreciate our loyal customers and thank you for your support of Sassafras and Eat at Jumbos over the years."
Sorella's
For the past 36 years, Sorella's acted as a friendly breakfast and lunch staple for the Jamaica Plain neighborhood. But on Sunday, the two-story cafe served its last plate of cornbread French toast. Owner Antoinette Elias, who also runs the Dedham Diner, made the decision to sell the business and focus on her other diner.