Restaurants
Dorchester Brewing is expanding with a roof deck, greenhouse, restaurant, and game room
You'll be able to drink beer among hops inside the all-season greenhouse.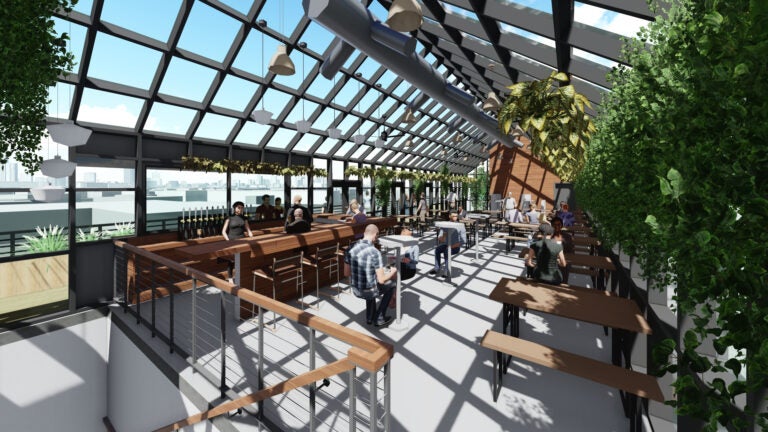 As patios start to open in time for spring, one local brewery is taking its outdoor expansion upward — to the roof.
On Tuesday, Dorchester Brewing Company broke ground on a $3 million expansion that will include a roof deck, game room, greenhouse, restaurant, and additional taproom space. The brewery, which opened on Massachusetts Avenue in 2016, currently operates a 2,000-square-foot taproom. The expansion will add an additional 5,000 square feet to the space, including a 1,000-square-foot game room that will include board games, with a potential shuffleboard or pinball machine thrown into the mix.
Matt Malloy, co-founder and CEO of Dorchester Brewing, told Boston.com that this is a natural evolution for the brewery.
"Dorchester is changing, and we want to be someone that helps [the neighborhood] grow," he said. "We decided this was the time. We saw how much people loved to be sitting outside and enjoying a beer. So we said, what could we create that people would want? And we started asking customers."
What people wanted, it seemed, was a beer garden. But the brewery is going one step further, working with local companies RODE Architects and Stack + Co. to add a 2,200-square-foot greenhouse on the roof that will function as a four-season beer hall, complete with a fireplace, plenty of seating, and a garden that will include a variety of hops. The temperature-controlled greenhouse will be surrounded by a wraparound roof deck, making for an indoor-outdoor space suited for whatever weather Boston throws at it.
Food trucks have always been a staple at the brewery, but an on-site restaurant will now be added adjacent to the taproom. The restaurant will be run by a Dorchester-based barbecue food truck, and while Malloy wasn't ready to share any names, he emphasized that this will be the truck's first brick-and-mortar location.
"We'll be there to support them," Malloy said. "We want them to be able to run their own business."
Diners will be able to enjoy both food and beer throughout the space, whether it's in the restaurant's dining area, in the current taproom, on the roof deck, or inside the patio.
Malloy said the brewery also will be using local gardeners to look after the greenhouse's flora as if it were their own garden.
"We make beer," he said. "We're not farmers. So we're trying to leverage this to incorporate the community."
If all goes as planned, the expansion will be complete by October; Malloy said that the team is aiming to have everything done in time for the brewery's Oktoberfest celebrations. The brewery will continue with business as usual until then, and Malloy said he doesn't expect construction to have an impact on the customer side.
A Dorchester resident of 15 years, Malloy said that he hopes that other local businesses will continue to invest in the neighborhood.
"There's this wonderful thing that continues to flourish in Dorchester," he said. "We're seeing businesses saying, This is my home and how do I invest in it? We're seeing a lot of people taking pride in the community."