Restaurants
Harpoon and Dunkin' teamed up to create an iced coffee-inspired beer
It's the quintessential New England mash-up.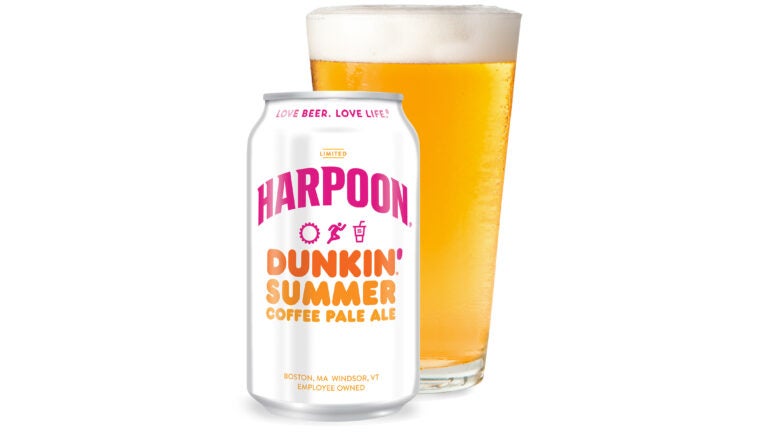 To solve the ultimate Boston debate of choosing between an iced coffee or beer, two local companies simply combined the beverages.
In October, Boston-born Harpoon Brewery teamed up with Canton-based Dunkin' to create the Harpoon Dunkin' coffee porter, a malty brew with notes of espresso and dark chocolate. For their second collaboration, the two decided to go the iced coffee route. Boston, meet the Harpoon Dunkin' summer coffee pale ale.
The limited edition beer mixes a pale ale with the flavors of Dunkin's original iced coffee, a fan favorite that is consumed in New England year-round. A smattering of hops are used in the production, including Chinook, Denali, Simcoe, Mosaic, Citra, and Azacca, along with Pale Malt, Carapils Malt, and Fawcett Amber Malt.
On the label, pairing suggestions range from coffee-rubbed brisket and chipotle chicken tacos to, naturally, Dunkin' coffee rolls. Outdoor brunch is also listed as a viable pairing — and at 5% ABV, the pale ale makes for an easy brunch sipper.
"I just depleted the last of my private stash of Harpoon Dunkin' Coffee Porter the other day, so, selfishly, the timing on this launch couldn't be better," said Dan Kenary, Harpoon's co-founder and CEO, in a press release. "We ended last year's baseball season with the intro of Harpoon Dunkin' Coffee Porter, and we're excited to begin this season with the release of our Summer Coffee Pale Ale. Most importantly, it's a delicious beer — hoppy and vibrant with a nice coffee character. We're thrilled to partner with an icon like Dunkin' again."
The beer launched on Thursday and can be purchased through the summer in both 12-ounce cans and on draft at select retail locations.