Restaurants
An outdoor wine garden is popping up on the Greenway next month
City Winery on The Greenway is scheduled to debut in May.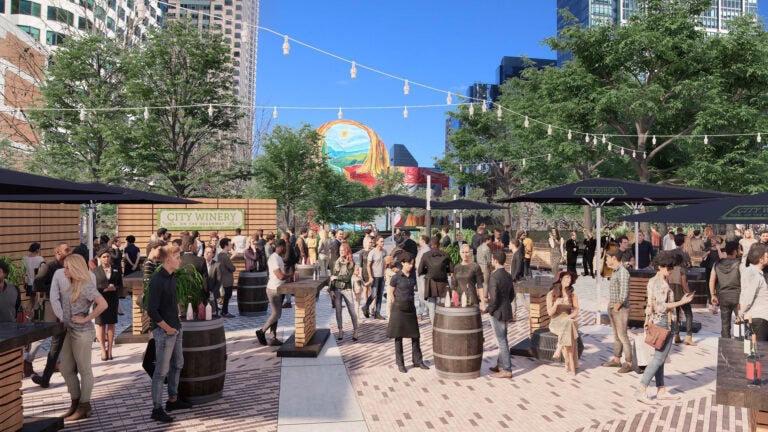 This spring's outdoor drinking news has been dominated by beer garden announcements — we're looking at you, Trillium and Brewer's Alley — but City Winery is mixing it up with Boston's first open-air wine garden, scheduled to debut in May.
City Winery on The Greenway will open at Dewey Square across from South Station with its own local wine on tap, including reds, whites, and rosés. Beer fans won't be left out — the winery has partnered with Harpoon to offer beer and cider as well. A Mediterranean-influenced menu including charcuterie, cheeses, olives, and nuts will round out the food and drink lineup.
"City Winery is excited to enjoy our first summer outdoors on the Greenway," Avi Kent, chief growth officer for City Winery, said in a press release. "We can't wait to bring what we do at our existing Boston location with wine and food to the Greenway, reaching a whole new audience of locals, downtown workers, and visitors throughout the warmer months in Boston."
The West End winery, restaurant, and event space operates seven locations around the country, including a 30,000-square-foot space near TD Garden, but this is the first time a wine garden has been part of its repertoire.
Last year, Downeast Cider took up residency in Dewey Square for the inaugural Down East Back Porch on the Greenway pop-up, but the introduction of a winery is a notable change from the cider and beer gardens that will soon start populating this particular stretch of downtown.
While an exact opening date hasn't yet been announced, the garden will be open Wednesdays and Fridays from 3:30 p.m. to 10 p.m., Saturdays from 1 p.m. to 9 p.m., and Sundays from 11 a.m. to 7 p.m.