Restaurants
The new downtown food hall will have a cocktail bar, a sushi spot, and a fried chicken joint
High Street Place is slated to open this fall.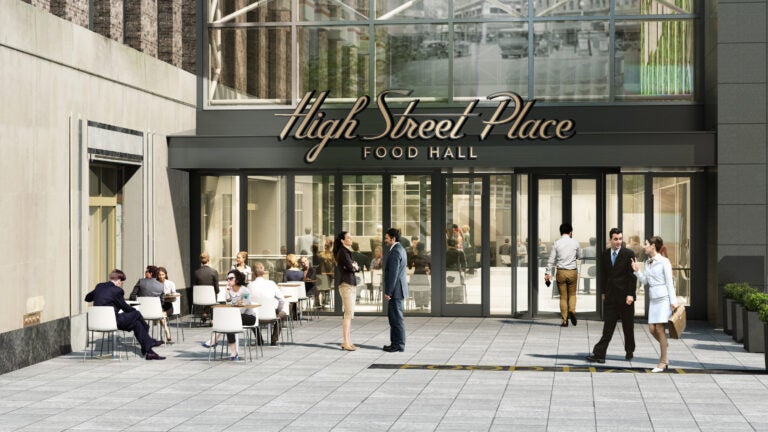 High Street Place announced its first wave of vendors on Wednesday afternoon, revealing 11 of the 20 concepts — run by local chefs, brewmasters, coffee roasters, winemakers, and restaurateurs — that will set up shop in the downtown food hall when it opens this fall.
The concepts range from a modern cocktail bar to a burger joint to a Mexican food truck launching its first brick-and-mortar.
James Beard Award nominee Tiffani Faison — who has turned Fenway into a dining destination with her Big Heart Hospitality restaurants Sweet Cheeks, Tiger Mama, and Fool's Errand — will debut two concepts at High Street Place. Dive Bar, a New Orleans-inspired raw bar, will serve lobster rolls, po'boys, and plenty of oysters, while Tenderoni's will see Faison focusing on personalized pizzas and old school grinders.
"This was the perfect opportunity to hit the gas on some of the concepts that bounce around my head — I have wanted to do a super fun raw bar forever, and the desire to do pizza has been keeping me up at night for years," Faison said in a press release. "Just like our restaurants, delivering something that is pure fun, while using great ingredients and technique, is where we live. It is really exciting to bring Big Heart Hospitality to another area of the city, to meet some new neighbors and to make new friends."
Daren Swisher and Joseph Cammarata, two industry veterans behind Backbar, Jm Curley, and Hojoko, will open cocktail bar Daiquiris & Daisies, and Pennypacker's will be a haven for porchetta fans who are looking to score a sandwich, salad, or bar snacks. Another Wheelhouse location will open with its famed burgers, and the team will also debut a fried chicken concept called Haley Jane, inspired by Wheelhouse's Thursday fried chicken sandwich special.
It wouldn't be a food hall without a ramen shop, which is where Noodle BOS comes in, a vendor that will offer create-your-own ramen and rice bowls, along with curry ramen, tonkotsu ramen, and tempura udon. And Mexican food truck North East of the Border will make the jump to a brick-and-mortar, serving a selection of tacos.
Other vendors will include Mother Juice, an organic pressed-juice shop; Fuji Sushi, a sushi spot from the JP Fuji Group with dishes designed specifically for High Street Place; and The Farmacy Cafe, which will have breakfast toast, rice bowls, and CBD-infused snacks.
Opening at 100 High St., the 20,000-square-foot food hall will offer seating for 500 people, with both indoor and outdoor options that will include communal tables, banquettes, and high tops. Design teams led by Gensler and Groundswell Design Group are creating a space that boasts a five-story atrium, a retractable window system, and a green wall. When the $30 million space eventually opens, there will be live music, screenings, panels, and more entertainment in addition to the 20 food and drink vendors.