Restaurants
A guide to all of the Boston area's beer and wine gardens in 2019
Sunshine and beer are a perfect pair.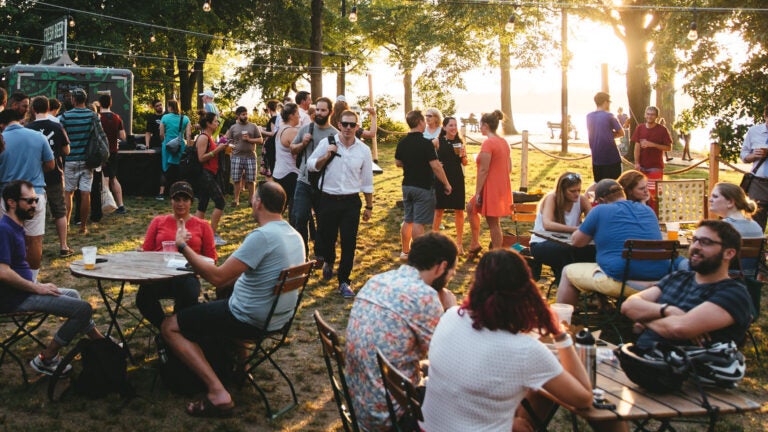 There are few better ways to spend a weekend afternoon than by drinking beer under blue skies. Boston's beer (and, starting this year, wine) gardens allow us to live out that summer indulgence. Whether you're an IPA drinker or a rosé fan, visit these outdoor drinking gardens for sunny sipping.
This list will be updated as more beer and wine gardens open in 2019.
Aeronaut Allston
Back for its fourth year, Aeronaut Brewing has set up its seasonal beer garden three nights a week with live music, food trucks, and plenty of beer. The family-friendly pop-up is held at 267 Western Ave., with musical acts that include Los Goutos and Kotoko Brass, food from Roxy's Grilled Cheese and Rhythm 'n Wraps, and guest ciders in addition to Aeronaut's own suds from its Somerville brewery. (Open May 15–Sept. 13; Wednesdays from 5 p.m.–9:30 p.m., Thursdays from 5 p.m.–10:30 p.m., and Fridays from 5 p.m.–11 p.m.)
Brewer's Alley
New to this year's beer garden scene is Brewer's Alley, a Boston Harbor Hotel-adjacent garden that opened on Rowes Wharf on May 23. The garden features a rotating lineup of Boston area breweries, including Devil's Purse (May 23–June 19), Jack's Abby Craft Lagers (June 20–July 17), Night Shift Brewing (July 18–Aug. 21), and Lord Hobo Brewing Co. (Aug. 22–Sept. 25). Mark your calendar for the garden's Oktoberfest celebrations (Sept. 25–Oct. 26), when eight local breweries will pour their beer alongside each other. (Open May 23–Oct. 26; Mondays–Fridays from 4 p.m.–10 p.m., Saturdays from noon–10 p.m., and Sundays from noon–8 p.m.)
Castle Island at Constitution Wharf
Norwood-based brewery Castle Island Brewing has revived its Charlestown beer garden for a second season, pouring classics and limited release beers from a 20-tap draft trailer next to the USS Constitution. Against the backdrop of the Boston skyline, guests can sip on the brewery's flagship Keeper IPA, Tango Crush sour, award-winning American Lager, and other options, along with wine and non-alcoholic drinks. Bring your pup — the beer garden is dog-friendly. (Open May 30–Sept. 29; Thursdays and Fridays from 3 p.m.–9 p.m., Saturdays from noon–9 p.m., Sundays from noon–7 p.m.)
Cisco Brewers
Back for a second year, Nantucket-based brewery Cisco Brewers popped up in the Seaport next to District Hall, serving sudsy hits from both its original island location and Portsmouth offshoot. Enjoy beers like the Getaway IPA, Crantucket Brut IPA, Whales Tale, Grey Lady, and more, along with wine, small-batch ciders, and wine-based cocktails. A handful of food truck options are available as well, including seafood and tacos from Loco Taqueria & Oyster Bar. (Open May 15–TBD; Tuesdays through Fridays from 4 p.m.–11 p.m., Saturdays and Sundays from 12 p.m.–11 p.m.)
City Winery on the Greenway
It's a first for Boston: a dedicated, open-air wine garden, courtesy of the West End's City Winery. Wine devotees can sip on reds, whites, and rosés on tap in Dewey Square, located just across the street from South Station. Pair your wine with Mediterranean-inspired snacks (cheese, charcuterie, olives, and more), and soak in the sun while swirling a glass. Beer and cider from Harpoon are available as well. (May 1–Oct. 30; Wednesdays and Fridays from 3:30 p.m.–10 p.m., Saturdays from 1 p.m.–9 p.m., and Sundays from 11 a.m.–7 p.m.)
Craft Collective Beer Barn at SoWa Open Market
Curated by Craft Collective, a boutique beverage wholesaler, the beer barn at SoWa Open Market has returned for another year of highlighting local craft brewers every Sunday. This season's lineup includes Banded Brewing, Fiddlehead Brewing Company, Finback Brewery, SingleCut Beersmiths, and more. Live music, lawn games, and food trucks are also part of the beer garden, and pets are welcome. (Open May 5–Oct. 27; Sundays from 10 a.m.–4 p.m.)
The Patios at City Hall Plaza
Wachusett Brewing Company returned to The Patios at City Hall Plaza, an annual outdoor installation featuring drinks, food trucks, entertainment, and, new this year, first-come, first-served grills. At Wachusett's Airstream, eight beers on draught are available, along with a margarita-inspired sour ale and the brewery's new Fifty Trees hard cider. The Patios recently transitioned into a fall-themed hangout, with Boo Yeah! Pumpkin and Octoberfest beer from Wachusett, plus apple cider donuts, pumpkin donuts, hot and cold apple cider, and a hot caramel apple sipper from Westminster-based Bittersweet Homestead. (Open May 2–Oct. 12; Mondays–Thursdays from 4 p.m.–close; Fridays–Sundays from noon–close)
Night Shift's Owl's Nest
Night Shift may have just opened a new Lovejoy Wharf location, but the Everett-based brewery isn't leaving its seasonal beer gardens behind. The Owl's Nest is open in two spots: on the Esplanade by Fielder Field, and in Allston by the Herter Park Amphitheater and Public Gardens. At both, imbibers can enjoy live music, beer and wine, and food trucks. Got a pup? Both locations are pet-friendly. (Open May 4–end of October, dependent on the weather; Esplanade: Wednesdays and Thursdays from 4 p.m.–10 p.m., Fridays from 2 p.m.-10 p.m., Saturdays from noon–10 p.m., Sundays from noon–8 p.m.; Allston: Thursdays and Fridays from 4 p.m.–10 p.m., Saturdays from noon–10 p.m., Sundays from noon–8 p.m.)
Trillium on the Greenway
Trillium's brand-new beer garden and taproom in the Fenway isn't scheduled to open until this fall. In the meantime, those thirsty for the brewery's coveted New England IPAs — plus new lagers and a rotating lineup of Fresh Press ales — can head to Trillium on the Greenway, which returned for a third year at the corner of High Street and Atlantic Avenue. Wine from Westport Rivers Vineyard & Winery are also available, and drinkers can bring in their own food from nearby food trucks or restaurants. (Open May 16–October TBD, dependent on the weather; Wednesdays–Fridays from 2 p.m.–10 p.m., Saturdays from 11 a.m.–10 p.m., and Sundays from 12 p.m.–6 p.m.)