Restaurants
A local tongue dish got an honorable mention on GQ's 2019 Best New Restaurants list
It's time to try the smoked tongue sandwich at Fool's Errand.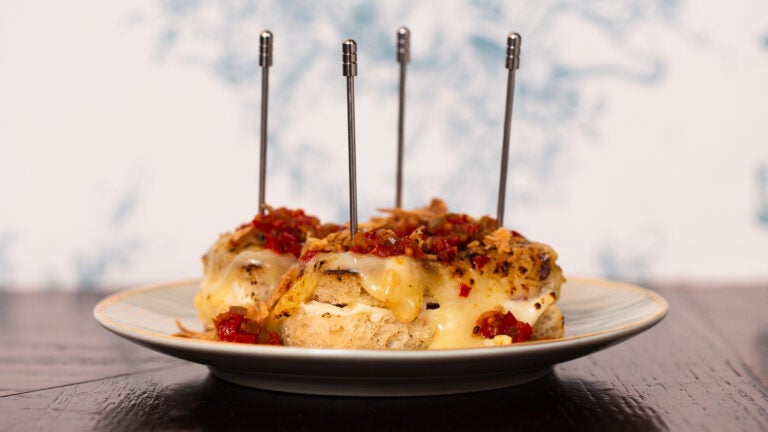 On Monday, GQ released its annual list of Best New Restaurants in America: 13 newcomers in the culinary world for which GQ searched the 50 states and Puerto Rico. While no restaurants in Boston made the cut, the city did receive a nod in the form of a smoked tongue sandwich.
According to a press release, GQ food critic Brett Martin gave the dish at Fool's Errand, Tiffani Faison's adult snack bar in the Fenway, an honorable mention, along with seven other dishes that include the smoked rabbit carnitas at The Brewer's Table in Austin and the Friday Fish Fry at Mint in Madison, Wis. The smoked tongue is one of Fool's Errand's fancy finger sammies, a section of the menu that also features ham and butter, butter and gruyere, and seeded pastrami and Brillat Savarin renditions. The beef tongue is accompanied by a layer of melted raclette and a sprinkling of fiery potato chips — snack food at its finest.
Faison recently announced that she would be expanding her Fenway empire of Fool's Errand, barbecue spot Sweet Cheeks, and Southeast Asian-inspired Tiger Mama with two new restaurants at High Street Place, a food hall set to open downtown in fall 2019. The concepts will include Dive Bar, a New Orleans-inspired raw bar, and Tenderoni's, which will focus on personalized pizzas and grinders.
While Martin neglected to name any Massachusetts spots on his list of best new restaurants, he did include Big King, a self-described "small weird" Japanese restaurant in Providence, R.I.
"The narrow room has the relaxed feel of a neighborhood sushi joint; there's a 'chef's counter' that, farther down, turns into a bar," Martin wrote.
He called Big King's two set menus, at $40 and $55, "a remarkable deal," and described how sake is the drink of choice at the restaurant.
"The sharpness and depth of the sake pairings make it easy to submit," he wrote.
Other restaurants on the 2019 list are Homer, a Middle Eastern spot in Seattle; Ma'am Sir, a Filipino favorite in Los Angeles; and Vianda, a farm-to-table concept in San Juan. Check out the complete list here.