Restaurants
Time Out Market adds six new vendors to its food hall lineup
Mamaleh's and George Howell Coffee are among the latest concepts to join the new market.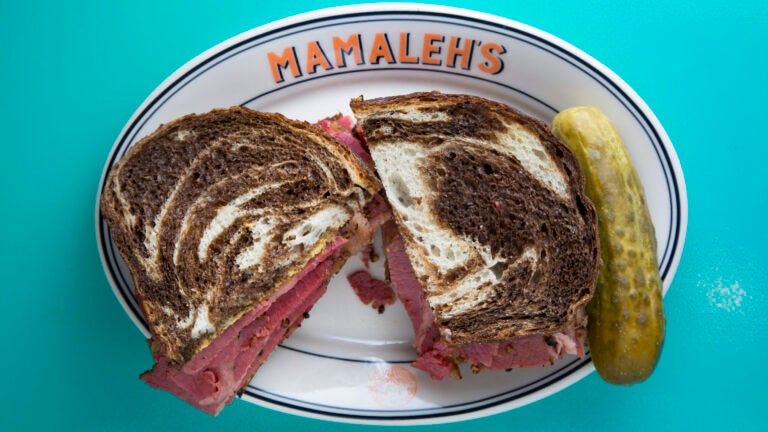 It's been a busy few days of food hall news.
Time Out Market just released a second round of vendors that will open at its Fenway market, right on the heels of High Street Place, the food hall scheduled to open in downtown Boston this fall, revealing its first round last week.
Six new vendors were announced on Monday morning, including BISq, Mamaleh's Delicatessen, George Howell Coffee, Revolution Health Kitchen, Gelato & Chill, and chef Michael Schlow, who will open a second Italian-inspired vendor in addition to the Italian vendor he already has planned for the market.
Schlow's second concept will focus on Roman-style pizza, with pies that highlight simple ingredients — think Margherita pizza with imported San Marzano tomatoes, fresh mozzarella, and basil, and Pizza Bianca with whipped ricotta, parmigiano, mozzarella, and rosemary.
Cambridge deli Mamaleh's will bring its classic sandwiches to Time Out Market, along with its smoked fish options and phenomenal pastrami. At BISq, another Cambridge stalwart, chef Alex Saenz will offer expertly curated charcuterie and cheese boards, as well as sandwiches and terrines. Artisan roaster George Howell Coffee will offer a menu of batch-brewed single farm coffee, micro-lot coffee, seasonal coffee-based mocktails, and pastries and desserts from Seven Start Bakery and Praline.
Other new vendors announced include Gelato & Chill, which will offer small-batch gelato flavors like ricotta fig, creamy dark chocolate, and pistachio; and Revolution Health Kitchen, featuring salads, acai bowls, soups, and fresh juices.
Another new development includes details about Nancy and Tim Cushman's two Asian concepts that were announced in the first wave of vendors. At Ms. Cluck's Deluxe Chicken & Dumplings, diners will be able to order creative takes on chicken and dumplings, while Gogo Ya will focus on modern Japanese and sushi dishes like crispy nori sushi tacos and bento bowls.
In addition to the Cushmans, previously announced chefs and restaurants include chef Tony Maws (who will offer versions of his famous Craigie burger), chef Peter Ungár (Tasting Counter), Nina and Raffi Festekjian (Anoush'ella), and Union Square Donuts.
The market, which will open in the 401 Park Drive building in the Fenway later this year, is scheduled to have 15 eateries, two bars, a demo kitchen, a retail shop, art, and music.
https://www.instagram.com/p/Bwj6TlUgHeA/