Restaurants
Eataly's newest restaurant is a love letter to sustainable seafood
La Pescheria opens on Friday.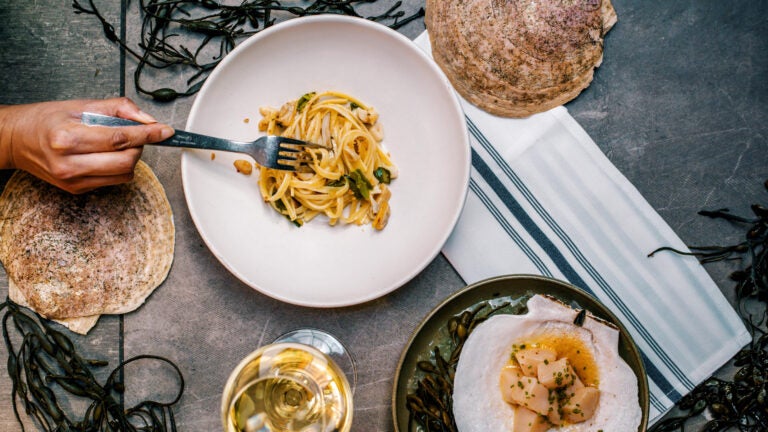 All eyes are on sustainability at Eataly's newest restaurant: La Pescheria, a seafood kitchen and bar serving consciously-sourced produce.
Opening on Friday, the "fishmonger's kitchen" will be a full-service restaurant helmed by chef Sam De Los Santos, who has connected with Boston-area purveyors dedicated to sustainable fishing — Island Creek Oysters, John Nagle Co., Red's Best, and Wulf's Fish — to craft a menu that melds traditional Italian fare and local seafood. Responsible sourcing is achieved by fishing produce that's in season, not overfishing, and staying conscious of fish populations.
A three-course tasting menu is the central focus of La Pescheria's menu. Guests will get to choose from dishes like black bass crudo, Rhode Island calamari, linguine with clams, bucatini with artichoke and mint, Sunday fish stew, and softshell crab. Rotating specials — grilled prawns, for example, or whole bluefish — will also be available to upgrade the tasting menu or swap out items, and a daily selection of oysters from Island Creek Oysters will serve as a regular fixture on the menu.
As for drinks, Eataly's beverage director Jessica Brennan will be in charge of the wine list, as well as a seasonal cocktail program designed to utilize ingredients (fennel, hibiscus) that pair well with the ocean-centric dishes.
La Pescheria will be open for lunch and dinner in the former Il Tartufo space, and will offer bar seating situated around an open kitchen.
La Pescheria at the Prudential Center; 800 Boylston St., Boston; daily from 11:30 a.m.–3 p.m. and 5 p.m.–10 p.m; eataly.com