Restaurants
A local Tex-Mex favorite will pop up in the former Tupelo space
Find Tex Mex Eat's cheese enchiladas and chilaquiles starting Thursday.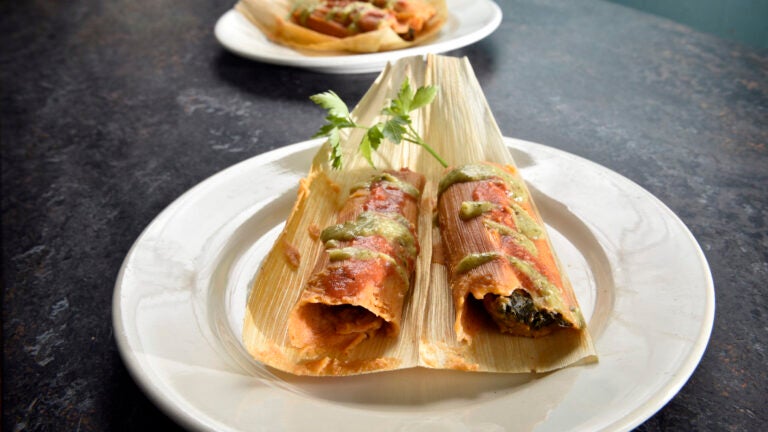 There aren't too many Tex-Mex options in Boston, which is why it's such a treat to experience Amanda Escamilla's Tex Mex Eats, a catering company and farmers market regular. Now, Escamilla — a Corpus Christi native who spent years working at the East Coast Grill in Cambridge — is bringing her tamales and enchiladas to the former Tupelo space in Inman Square for an extended pop-up.
"We want to make some awesome meals that are Tex-Mex related, things I grew up eating," Escamilla told Boston.com.
Starting on Thursday, Tex Mex Eats will offer dinner and brunch, with dishes like cheese enchiladas with Spanish rice, refried beans, and pico de gallo; and pork loin over hominy poblano hash with mango salsa. Her beloved tamales will be there, and Escamilla said that she's hoping to also serve breakfast tacos with homemade tortillas that she learned how to make from her mother and grandmother. Posoles, a traditional Mexican stew, and chilaquiles will also make an appearance on the menu.
Wine and beer ("of course, Lone Star," Escamilla confirmed) will also be available, along with mimosas and and sangrias for brunch.
While the pop-up doesn't have an end date, Escamilla said that this project will help raise money for a brick and mortar that she hopes to open in the future.
"It's a campaign to raise capital for a permanent kitchen in the Cambridge/Somerville area," she explained.
The Tex Mex Eats pop-up will be located at 1193 Cambridge St. in the former Tupelo space, a Southern food restaurant that closed in October, and will offer dinner on Thursday through Saturday from 5:30 p.m.–10 p.m. and brunch on Sunday from 11 a.m.–3 p.m.