Restaurants
A Nantucket brewery will bring island vibes to the Seaport with yet another beer garden
Because it's been a full week without beer garden news.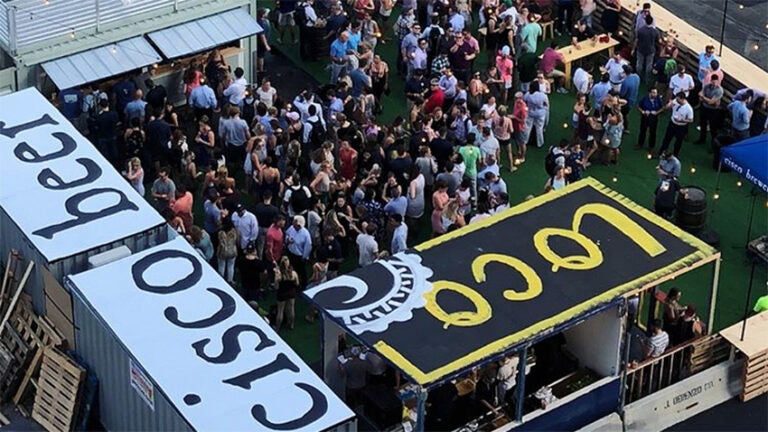 With all of the beer and wine gardens scheduled to open this summer, we're finding it hard to imagine drinking inside in the next few months — and now there's yet another reason to enjoy a beer under the sun.
Nantucket-based Cisco Brewers will return to the Seaport for a second year, this time with a larger selection of beer, wine, and food trucks to enjoy just a short walk from the water.
Boasting two extra bars, the 2019 iteration of Cisco's beer garden will feature beers like Getaway IPA, Crantucket Brut IPA, and suds from the Portsmouth location, including the nautically named Whales Tale, Grey Lady, Gripah, and Shark Tracker. Small-batch ciders, along with vintage rosé, sauvignon blanc, and wine-based cocktails from Triple Eight Distillery will also be available at the garden, which will pop up at 65 Northern Ave. next to District Hall.
"Our experience on Nantucket is all about decompressing, letting your guard down and enjoying the island lifestyle with music, friends, food, family, dogs, and drinks," said Jay Harman, CEO of Cisco Brewers, in a press release. "We are excited to bring it back to Boston Seaport for a second season."
Beyond beer and wine, guests can take a break between sips with seafood and tacos from Loco Taqueria & Oyster Bar; additional food vendors will be announced in the next few weeks. This year, the brewery is introducing a charitable component with "Non-Profit Tuesdays," when local charities will be able to partner with Cisco to raise money and awareness for their causes.
In addition to the Nantucket brewery, Cisco opened an off-island outpost in 2018 in Portsmouth. It plans to launch the Seaport beer garden in mid-May.
Cisco Brewers beer garden; 65 Northern Ave., Boston; Tuesdays through Fridays from 4 p.m.–11 p.m., Saturdays and Sundays from 12 p.m.–11 p.m.; ciscobrewers.com; opens in mid-May