Restaurants
A James Beard Award winner is opening a poke shop in Whole Foods
Chef Karen Akunowicz will debut SloPoke next week.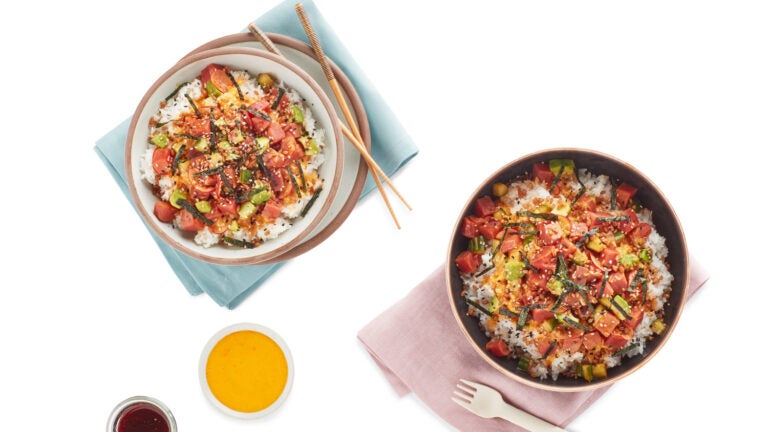 Karen Akunowicz opened her Italian enoteca, Fox & the Knife, just three months ago, but the former Myers & Chang executive chef and 2018 James Beard Award winner for Best Chef: Northeast is already returning to her Asian cooking roots.
On Thursday morning, Akunowicz announced the forthcoming opening of SloPoke, a fast-casual concept that will debut in the Whole Foods Market at Charles River Plaza.
The Hawaiian poke spot will serve a range of signature bowls, including the Sake Poke with Faroe Island salmon, edamame, tobiko, sesame seeds, and mango salsa; the Ahi Poke with yellowfin tuna, radish, crispy wheat berries, and chili ponzu; and vegetarian options like the Goddess Bowl with local tofu, Brussels sprouts, fried quinoa, green apple, and green goddess dressing. Customers can also get creative by building their own bowls, choosing from proteins (fish, chickpea, tofu), toppings (wheat berries, fried coconut), fruits and vegetables (grapes, cucumbers, sweet onion), and homemade dressings. There will be grab-and-go options available as well.
"Prior to opening Fox & the Knife, I cooked with Asian ingredients at Myers + Chang for seven years, experimenting with bold flavors — including my poke, which was a signature item on the menu," Akunowicz said in a press release. "Now, I'm thrilled to have the opportunity to open a poke concept where I can bring my vibrant flavors to the Whole Foods Market shoppers."
SloPoke is part of The Friends of Whole Foods Market program, which partners with chefs and culinary and lifestyle brands to provide shoppers with new in-store experiences. The fast-casual shop is scheduled to open on Friday, May 10.