Restaurants
One year later, there's nothing like Bow Market
An experimental community space has turned into a breeding ground for some of Boston's most creative chefs and retail owners.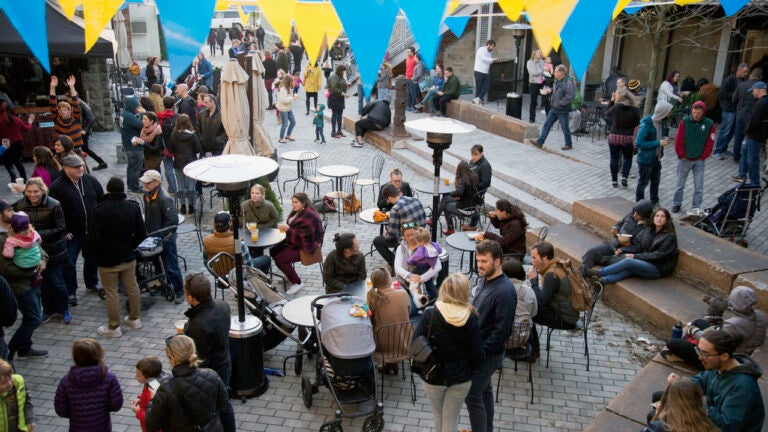 Time flies when you're an innovative and fast-growing market in Somerville — it's been almost one year since the grand opening of Bow Market.
Since debuting on May 12, 2018 with six businesses — Remnant Brewing and five retail spaces — the Somerville project inspired by the markets of Marrakech has filled out with almost 30 restaurants, bars, and shops, including three rotating pop-ups dedicated to food, art, and retail. There is a chocolate shop, a comedy club, a brow salon, a record shop, a wine bar, a supper club, a paperie, and a slew of other niche businesses, almost all operating on one-year leases. 
For all that Bow Market offers, its greatest success might be the opportunities it has given small business owners, many of whom didn't know whether they'd ever be able to make the leap from farmers market vendor or online retail store to a brick-and-mortar, however temporary. Bow Market owners and developers Zachary Baum, Matthew Boyes-Watson, and Mark Boyes-Watson, Matthew's father, have created a community gathering space where catering companies become restaurants, sommeliers become wine bar owners, and hobbyists become entrepreneurs.
As its one-year anniversary approaches, we talked with Baum about the evolution of the market, and with a handful of tenants about how it has changed the trajectory of their businesses.
"A good fit in the community"
Before a single unit had been filled at Bow Market, Baum said the team thought they "knew" what types of businesses they wanted to lease to.
"We knew we needed a children's store, a ramen shop, a bookstore," said Baum, rolling his eyes at his naïveté. "What we realized as we were sorting through the applications, was that what mattered more was that they were going to be a good fit in the community, no matter what they were doing or selling. If they had the right attitude to work well with the right businesses that are here, that's what was going to be successful here."
Bow Market's basic principles for a prospective business were simple: a unique, owner-operated concept with a proven ability to promote themselves, a good aesthetic, and the potential to be a positive member of the community.
For some tenants, it was a perfect match.
"We never wanted to do distribution," said David Kushner, co-founder of Remnant Brewing, one of the market's very first tenants. "We had come from some larger breweries, and there's nothing wrong with that model, but to be in any kind of distribution is really different. Our focus has always been: Let's build a community space, and the beer will speak for itself."
And so while Remnant's 2,800-square-foot unit, with only 600 square feet dedicated to the brewery, is a tight squeeze, it seamlessly aligns with the company's purpose and core values — even if they had to sink the brewery floor down two feet because the tanks wouldn't fit. 
Baum also found that, in keeping rent prices low, they ended up with a more diverse set of applicants than what is typically seen in the retail world.
"We're over 70% women-owned, and we're nearly 30% minority-owned," he said. "We have a number of non-cisgender owners — I think nearing 20%, which was really exciting for us, because in the research we've done, what makes a space like this appeal to a more diverse audience is seeing themselves represented in the biz owners."
"A very small, manageable scale"
With compact spaces as small as 165 square feet, a liquor license that is shared among businesses, and rents that can come in under $1,000 per month, many tenants have viewed launching a business at the market as relatively low-risk.
One word that multiple Bow tenants mention repeatedly when talking about the market is 'manageable.'
"The space was manageable, the amount of money was manageable," said Lauren Friel, who opened natural wine bar Rebel Rebel at the market in December. "And it was a unique opportunity to open a bar where I could share a liquor license and didn't have to front the cost of that. It was very approachable for a first-time brick-and-mortar owner."
The market has also become a place for businesses to determine what the bare minimum for success looks like. In October, James Choi opened Perillas, the market's first pop-up food concept, signing a six-month lease before extending it to a full year. The Korean fast-casual business had previously operated out of a Somerville kitchen space called Foundation Kitchen and focused on catering and pop-ups. For Choi, who comes from a finance and theology background, Bow Market was a necessary intermediary step between Foundation Kitchen and opening a stand-alone brick and mortar.
"There's a tech term called 'minimum viable product,'" Choi said. "It's the absolute necessary minimal requirement for your product to sell. Because we have challenges with storage space and limited options of what we can offer at Bow, it really forced us to look at our product and take away the unnecessary ingredients or fluff and boil it down to what really brings value to us. It helped us polish everything so we can be ready for the next step."
Friel said starting at the market was a crash course in opening a business.
"It was a great way to learn everything you need to do to start a bar or restaurant on a very small, manageable scale," she said. "I learned how to deal with contractors, architects. I learned about building codes in a very low stakes way."
"We're all kind of the Davids in a world of Goliaths"
When close to 30 businesses share a delivery space, bathrooms, and, in some cases, a liquor license, getting to know your neighbors is a necessity.
For Jason Tucker, who opened Hooked Fish Shop with Jimmy Rider in September, the relationships he has developed since opening at Bow have been a welcome surprise, whether they mean sharing a linen account with some of the other, smaller shops or borrowing ingredients.
"Everyone is really pulling for one another," he said. "Everybody sort of gets that if your neighbor is busy, it doesn't take away from your business. It just introduces us to new customers."
Sandra Rossi, owner of vintage retail shop We Thieves, has been at the market since it opened, and said that she was drawn to operating in a space where everyone has such a niche focus.
"We speak to people who are nerds in their own right," she said. "You have handmade locals, you have comedians, you have people who love record collecting. We're all kind of the Davids in a world of Goliaths."
"This is our baby right now"
For all of the effort that the owners put forth to find tenants that fit their vision, Baum understands that Bow is a stepping stone, and is excited to see where businesses go from here.
"Our goal is to have any business that leaves here stay in [Somerville's] ecosystem of food and retail businesses that all have a similar goal, which is providing high quality things to this neighborhood," he said. 
Plus, there are always new tenants to accommodate. The latest shops to open are Tiny Turns, a paperie, and Union Sound, a boutique music shop and production studio. And when Perillas' lease runs up in October, another food pop-up will need to move in.
In the meantime, there are milestones to celebrate and parties to throw honoring this quirky concept and all of its tenants. Remnant Brewing will host a one-year anniversary party on May 18, selling tickets that include a four-hour sampling session, an anniversary glass, and more. Hooked will shuck 12,000 oysters for Oyster Fest at the market in June, and Rebel Rebel is planning a raucous party in August filled with plenty of wine and grilled meats. Baum said that Bow Market's one-year party will be held in November, celebrating the official grand opening date.
As for taking the market elsewhere, Baum thinks it would be difficult to replicate this particular iteration of the concept.
"This is our baby right now," he said. "What worked here at this place and at this time in Somerville can't just be dropped somewhere else around Boston or the country. Our goal is to stay here and make Bow Market a screaming success."