Restaurants
Longtime brewpub John Harvard's will soon close its Cambridge outpost
It's another loss for Harvard Square.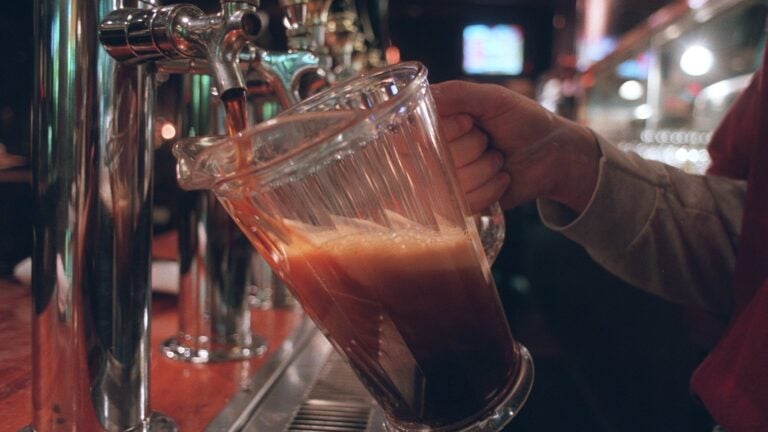 The hits keep on coming in Harvard Square: After 27 years of pouring beer, John Harvard's Brewery & Ale House will close its location in the basement of The Garage mall at the end of May.
Paul Pettas, communications director for Centerplate, a hospitality company that manages corporate operations for the chain, confirmed to Boston.com that the John Harvard's Cambridge location will shutter on May 30.
The restaurant released a statement that read, "After nearly 30 years in Harvard Square, John Harvard's Brew House has decided to close its doors permanently. It has been a honor and pleasure being part of the Harvard Square community and we are grateful to everyone in the community for supporting us over this period of time."
John Harvard's four other locations — two in Massachusetts and one each in Rhode Island and New York — will not be affected.
The pub opened its original Cambridge spot in 1992, serving bar staples such as nachos, onions, fried chicken sandwiches, and burgers to those wanting to catch a game, take a break from studying, or meet up with friends. While the bar originally brewed its own beer, it ceased brewing in-house in 2016, with general manager Ashley Tart McGuire telling Boston magazine in 2016 that maintenance expenses were behind the change. The location began contracting out its brews, while also offering beers from breweries like Founders Brewing Co., Otter Creek, Revolution Brewing, and Wormtown Brewery.
John Harvard's impending closure is the latest in a flurry of changes that have recently come to Harvard Square. Long-standing businesses such as Crema Café and Tealuxe closed at the end of 2018, and The World's Only Curious George Store announced last week that it would be relocating its Harvard Square store to Central Square at the end of June. Meanwhile, more national chains have moved in, with &pizza and Milk Bar taking over a crucial corner of the square and Australian coffee company Bluestone Lane set to open in the Crema Café space in the near future.