Restaurants
Discover a global dining scene in East Boston
Burritos, pizza, pozole, veggie hand pies — here's why you should have your next meal in Eastie.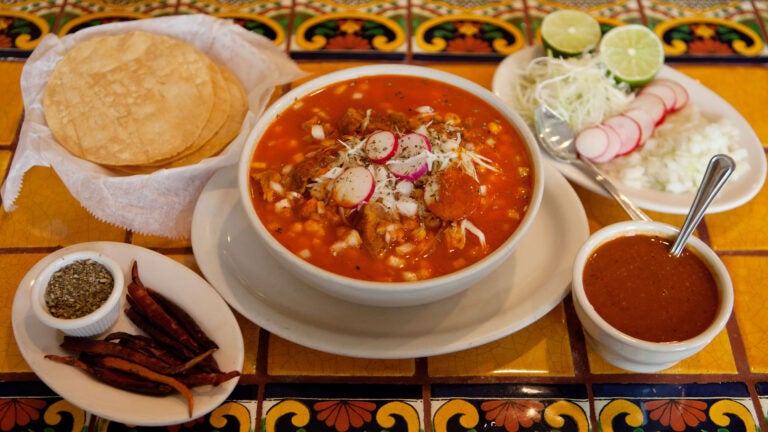 East Boston is rooted in migration. Irish immigrants began arriving in the waterfront neighborhood in the first half of the 19th century, followed by an influx of Eastern Europeans, Italians, Southeast Asians, and Latin Americans.
And while the face of the region — which has seen a rapid rise in new housing developments in recent years — is changing, you only have to look to Eastie's dining options to get a sense of its diverse history. The neighborhood offers Mexican, Peruvian, Italian, Southeast Asian, and Australian food, along with a growing footprint of American pub food. Whether you're fueling up before a flight at nearby Logan Airport or planning an afternoon food crawl, these are some of the best restaurants in East Boston for tortas, pizzas, ravioli, and even Aussie hand pies.
Angela's Café
Family-owned and operated, Angela's Café is an ode to the food of Puebla, a city in east-central Mexico. With locations in both Orient Heights and Eagle Hill, the restaurant — run by Angela Atenco Lopez — is a bastion for Eastie residents craving chilaquiles, rajas poblanas, fried tilapia tacos, and sopa de pozole. The guacamole at Angela's is the real deal, and if you're in need of a great margarita, the restaurant has a number of options, ranging from the classic version to a mangorita, coconutrita, and strawberrita. (131 Lexingston St., 1012 Bennington St.)
KO Pies at the Shipyard
We might not have much longer to enjoy KO at the Shipyard. In 2018, after closing his original KO Catering & Pies location in Southie, owner Sam Jackson told Boston magazine that he was planning to sell the East Boston location and leave New England sometime in 2019. But the restaurant is still chugging along, serving excellent meat and veggie hand pies alongside grilled seafood, sandwiches, and salads. The go-to move: Stop by Downeast Cider down the street for a cider tasting, then head to KO for curried vegetable, beef stew, and braised lamb shank pie. If it's a nice day, take your haul onto the patio for some people-watching. (256 Marginal St., Building 16) 
Mi Pueblito
Mexican, Salvadoran, and Guatemalan food grace the menu at Mi Pueblito, where you'll find large portions of tacos, burritos, enchiladas, and plates piled high with seafood, steak, grilled chicken, and refried beans. Whatever you order, make sure to tack on a side of pupusas. The Salvadoran flatbread is offered in both a corn and rice flour version, and comes with a handful of filling options, including pork and cheese, beans and cheese, and cheese and loroco (flower buds). Here for breakfast? The fried sweet plantains are a necessary accompaniment to any order, whether that's the huevos con chorizo or the breakfast burrito. (333 Border St.)
The Quiet Few
Josh and Linsey Weinstein opened this Jeffries Point gastropub in early April, taking over the former East Boston Kitchen space and transforming it into a whiskey haven and comfort food destination. Bar snacks, starters, and burgers and sandwiches that ooze with bacon, cheese, and dips are offered alongside a liquor menu that focuses on brown spirits, including an off-menu whiskey selection. Our preferred combo: a TQF burger with fried mozzarella and bacon, paired with an expertly constructed old-fashioned. You may come away with a few friends, too. (331 Sumner St.)
Rincon Limeño
You might be tempted — and you wouldn't be wrong — to order the titular dish at this colorful Peruvian restaurant, a seafood plate called the Clasico Rincon Limeño with marinated calamari, fish, and shrimp. But every dish is a goldmine here, from the rich Pescado a lo Mocho (fried fish in a cream sauce) and Tacu-Tacu de Mariscos (Peruvian beans with a seafood medley) to the various ceviche options featuring fresh seafood marinated in citrus. Of course, it wouldn't be a Peruvian restaurant without a Pisco sour, and Rincon Limeño has that, too — a refreshing pisco cocktail topped with a tall layer of egg white foam. (409 Chelsea St.)
Rino's Place
Let's just get this out of the way: Guy Fieri gave Rino's Place the "Diners, Drive-Ins, and Dives" treatment in 2010, which turned the already popular Italian restaurant into one that often garners two-plus hour wait times. Still, if you have patience (and time), it's worth scoring a seat at this East Boston staple. Italian American classics dominate the menu, such as chicken parm, veal marsala, homemade ravioli, and plenty of red sauce. The generous wine pours are much appreciated — especially if you've had to wait a couple of hours for your table. (258 Saratoga St.)
Roy's Cold Cuts
There's no better place in East Boston for a sub than Roy's. Open since 1960, the small deli with tchotchkes galore has little in the way of seating, but the gargantuan hot and cold subs more than make up for it. The meatball sub is the stuff of legend, while the spicy Italian is a perfect option to pick up for an impromptu picnic or a pre-flight meal. The deli also serves breakfast all day, with breakfast bowls and egg sandwiches. (198 Marion St.)
Santarpio's
Ask a local about their favorite pizza place in Boston, and a healthy number of responses will come back "Santarpio's." The cash-only joint is a mecca for pie fanatics, though everyone has their own opinion on the best order: sausage with garlic, pepperoni and hot peppers, shrimp scampi, classic cheese. While the service can be a bit, er, brusque, the quality of pizza has brought droves of people to the neighborhood since the Chelsea Street location fired up the oven in 1933. (111 Chelsea St.)
Taquería Jalisco
Dive into tamales, quesadillas, and burritos at this Mexican stalwart in Eastie, along with plates piled high with carne asada, flautas, and carne con chile. Colorful tiles decorate tables inside Taqueria Jalisco, and an all-day breakfast menu boasts various takes on huevos rancheros and burritos that will leave you in need of a considerable nap. Live music floats through every Saturday starting at 7 p.m. (291 Bennington St.)