Restaurants
The newest Encore restaurant details include Tomahawk steaks, mini lobster rolls, and local spirits
Plus, a famed chef will head up two spots at the casino and resort.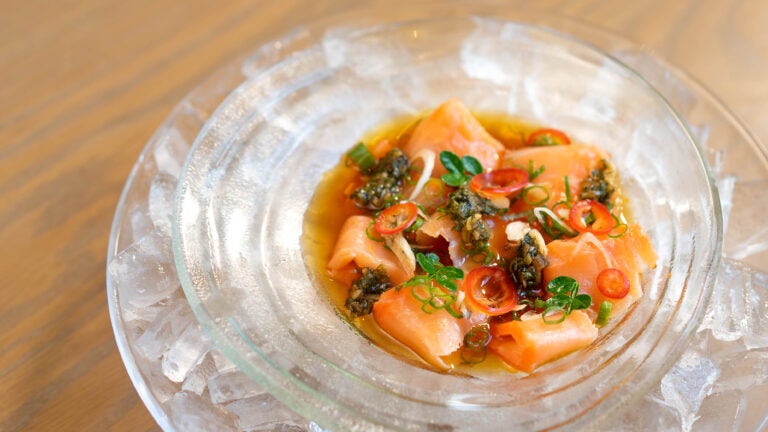 As the opening date of Encore Boston Harbor approaches — June 23, if all goes well — new information about the casino and resort's expansive food and beverage program are being revealed.
On Thursday, it was announced that a Miami chef will head up Mystique, an Asian restaurant and lounge with a 16,400-square-foot dining room that overlooks the Mystic River. Executive chef Anthony Micari, who previously worked at Japanese restaurant Makoto in Miami, has designed a Pan-Asian menu with a robata grill as the primary focus. Main entrees will include steaks such as Japanese New York Strip and a caveman-approved Tomahawk, along with smoked black garlic short rib, Szechuan duck, and an Avocado Bomb with sudachi aioli, toasted sesame, and ponzu.
But there will be more to Mystique than just grilled meats. Sushi chef Tony Mai will lead the sushi program, with both classic and reimagined sushi and sashimi offerings that highlight fresh fish flown daily from Japan. Omakase specials, which will allow Mai to create a personal dining experience for each customer based on the day's best fish available, will also be served.
Managed by Big Night Entertainment Group, Mystique will have a cocktail, sake, and wine lineup run by BNEG beverage director Jenn Martiesian Ramos.
More information about two seafood-focused restaurants at Encore was also released this week. It was announced on Wednesday that Neptune Oyster chef John Ross is leaving the famed North End seafood bar to run the casino's Waterfront and Oyster Bar.
"He had an incredible run at Neptune, and we were very fortunate to have him take this leap with us," said Warren Richards, Encore's executive director of food and beverage. "I actually did not expect him to come over. Neptune is one of the most respected restaurants in Boston. I've had many a good meal there myself, and honestly I never went there with the intention of John coming up here. But I think as we started to get to know John, we realized we had a lot of common interests and ideas about the restaurant world, and he was very excited to come and take this opportunity."
Oyster Bar will be an intimate dining experience with fewer than 30 seats, highlighting ceviches, crudos, freshly shucked oysters, and other raw bar delights. Ross is known for Neptune's famed lobster roll, and there will be mini versions at the bar, along with other bite-sized dishes.
In contrast, Waterfront's 80-seat dining room will offer casual pub food (and a full-sized lobster roll), plus an extensive craft beer program. Among the 32 drafts (plus a few more bottles and cans) will be beers from Night Shift, Down the Road, Lord Hobo, Stony Creek, and more.
"On the draft selection, if it was not produced in New England, it's not going to be represented here," Richards said. "That was something really fun for us to do. We extended that where we could into the spirits world, too. Obviously they don't make tequila here in Massachusetts, but they do make whiskey and rum and even vodka down on the Cape — people like Oysterville Vodka, or over on Nantucket, where you have Triple Eight Distillery. To be honest, if you want that familiar vodka, the ones you see advertised during the Super Bowl, this won't be that place. They have dozens of placements elsewhere in the building. [Waterfront] is a bubble, a slice of New England that we want to preserve for everybody."
Richards said Encore is on track to open on June 23, and that the casino and resort's 15 restaurant and bar concepts are all scheduled to debut simultaneously.
Encore Boston Harbor; 1 Broadway, Everett; slated to open June 23; encorebostonharbor.com