Restaurants
A Southie enoteca is one of Food & Wine's 2019 Best New Restaurants
Fox & the Knife was given the distinction mere months after opening.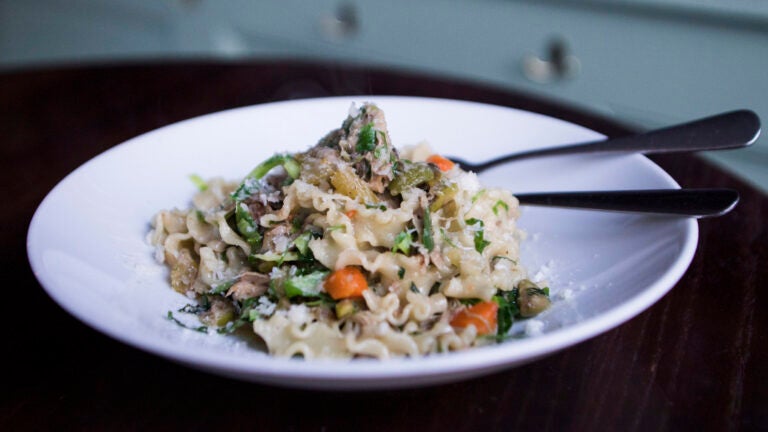 It has been an incredible year for Karen Akunowicz.
In May 2018, the former Myers + Chang chef won a James Beard Award for Best Chef: Northeast. A month later, she left the Asian-inspired South End restaurant to focus on her first solo project, Fox & the Knife, an Italian enoteca that draws from her experience living and cooking in Modena, Italy. The restaurant opened in February to rave reviews — and, on Tuesday morning, it was announced that Fox & the Knife is one of Food & Wine's 2019 Best New Restaurants.
The publication's annual list, which recognizes 10 exceptional new restaurants across the US, is curated by editor-at-large Jordana Rothman, who traveled 30,000 miles to 24 cities to get a sense of the country's current culinary landscape. This year, for the first time, the list is ranked, with Fox & the Knife coming in at No. 7. It is the most recently opened restaurant on the list, a testament to Akunowicz's thoughtful menu that, she previously told Boston.com, is "very rooted in tradition with a modern lens."
"We were only open a few weeks when I got the call about Best New Restaurant," Akunowicz told Boston.com on Tuesday in an email. "When [Rothman] called me, I thought maybe she wanted a reservation. She shared the news with me, and I just started crying. I don't think anything I was saying made sense. To have only been open a few weeks and to have her understand us so completely was a gift. It made me feel seen in what we were trying to [do] with our little piece of the neighborhood."
In writing about the enoteca, Rothman noted that Akunowicz's dishes are "not something you'd stumble across around Piazza della Pomposa. But here in Boston, in the care of Akunowicz with her shock of pink hair, and in the light of a neon 'stay foxy' sign, and with the din of Bostonians turning up with spritzes and Americanos, it all feels exactly right."
Landing at No. 1 on Food & Wine's list is Cadence in Philadelphia, a BYOB American restaurant that emphasizes regional ingredients. Other restaurants that made the list include Konbi (No. 4), serving Japanese-style sandwiches in Los Angeles; Adda Indian Canteen (No. 6), a cozy Indian eatery making waves in Long Island City; and Indigo (No. 8), a tasting menu concept in Houston.
In addition to Fox & the Knife, earlier this month Akunowicz opened SloPoke, a fast-casual poke shop nestled inside the Whole Foods Market at Charles River Plaza. The Hawaiian eatery serves a range of signature poke bowls along with customizable items, and is a nod to Akunowicz's previous training and experience working at Myers + Chang, where she created the restaurant's popular poke dish.
"[Fox & the Knife and SloPoke] are totally different, but they are both mine," the chef wrote. "I love the fresh, healthy food we serve at SloPoke, the big flavors, and how much fun it is. I love that we can offer it quickly and to a different neighborhood. I think that both are an expression of my food on two different ends of the spectrum."
As for how Akunowicz is going to celebrate the big Food & Wine accomplishment, she said that a party is in order.
"We are going to keep doing what we do every day: making great food and creating space for people to connect," Akunowicz wrote. "Then, we are going to have a big party for our staff. They are the ones that deserve the congrats. Every cook, bartender, server, host and food runner that got our vision believed in it and share[s] it with everyone who walks in the door. I'm honored to work with every single one of them each day."
Update: An initial press release from Fox & the Knife included incorrect rankings of the restaurants. This article has been updated to reflect the accurate order.