Restaurants
Rebel Rebel started a rosé resistance — and says it's raised almost $25,000 for abortion access in the process
The Somerville wine bar's owner, Lauren Friel, ignited a citywide response to the Alabama abortion bill.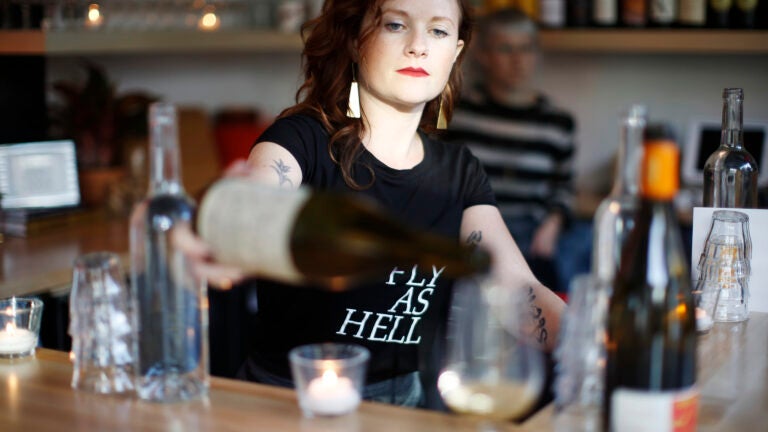 On May 15, following the news that Alabama had passed the most restrictive abortion bill in the country, Lauren Friel opened the Instagram account to Rebel Rebel, her natural wine bar at Somerville's Bow Market, and started typing.
"We're committed to doing whatever we can to help stop forced childbearing in this country," she wrote, before going on to pledge 100% of Rebel Rebel's rosé sales (not profit) to the Yellowhammer Fund, an organization that provides funding for those seeking care at abortion clinics in Alabama.
Friel's reaction spread quickly — and Emily Isenberg, founder of community marketing agency Isenberg Projects and a close friend of Friel's, asked how she could take part.
"[Isenberg Projects] came up with the hashtag, #roseforresistance, and the website, and they set up the GoFundMe, which basically gave anyone who wanted to get involved an easy way to participate," Friel said.
Plenty of businesses wanted to. Restaurants and bars from across the city — including Coppa, Committee, Field and Vine, Little Donkey, Pammy's, Tip Tap Room, and Trina's Starlite Lounge — have committed rosé sales to the cause, with some participating last weekend and others joining later and/or continuing their involvement throughout the week. More than 25 restaurants and bars have signed on, including two outside of Massachusetts (Trixies Food and Wine in Missouri and Fortnight in Providence, R.I.). Distributors, importers, and wineries have contributed as well, donating bottles of rosé from Charles River Wines, Onward Wines, Vineyard Road, and more to Rebel Rebel.
As of Wednesday afternoon, Friel said that Rebel Rebel has raised approximately $18,000 and the #roseforresistance fundraiser has raised almost $23,000.
"We're expecting to surpass $25,000, and then Rebel Rebel is shooting for $25,000 individually," said Friel, who shared her motivation for getting involved in a recent Bon Appétit essay. "I think the thing that's so remarkable is that it's just the sale of $12 glasses of rosé. That's a lot for a pretty small ask. What we really saw last weekend was that grassroots activism can work, and it's particularly effective for the food and beverage industry to do because we have a captive audience and are centers for community involvement."
Businesses are continuing to join the cause, too, including all three locations (Cambridge, Kendall Square, South End) of Formaggio Kitchen, which will donate 100% of its profit from rosé sales this Friday, Saturday, and Sunday.
Friel said that Rebel Rebel is getting involved with upcoming women's rights events at Bow Market as well. The bar is offering up space (and rosé) for both a Stand with Planned Parenthood bake sale on Memorial Day featuring $5 treats from pastry all-stars like Flour's Joanne Chang, Sofra's Maura Kilpatrick, and Benedetto's Renae Connolly, and a "Fundraiser for Abortion Access" hosted by feminist community organization The Cauldron, with 100% of money from tickets (aka donations) and rosé purchases at Rebel Rebel going toward the National Network of Abortion Funds.
Friel said that the wine bar, which has kept a Planned Parenthood donation jar on its bar since opening at Bow Market in October, will keep #roseforresistance going indefinitely for now. Rebel Rebel and Isenberg Projects are also working on downloadable #roseforresistance materials that can be used for individual fundraising.
"There's always going to be a need for this," Friel said. "It shouldn't stop this weekend or next weekend. I'm really kind of in awe of the way the community has rallied around this and stood up for what's right — it feels like it's something that's second nature to folks."