Restaurants
5 industry professionals talk about their love-hate relationship with the Bloody Mary
Hair of the dog? Meal in cocktail form? These experts have thoughts.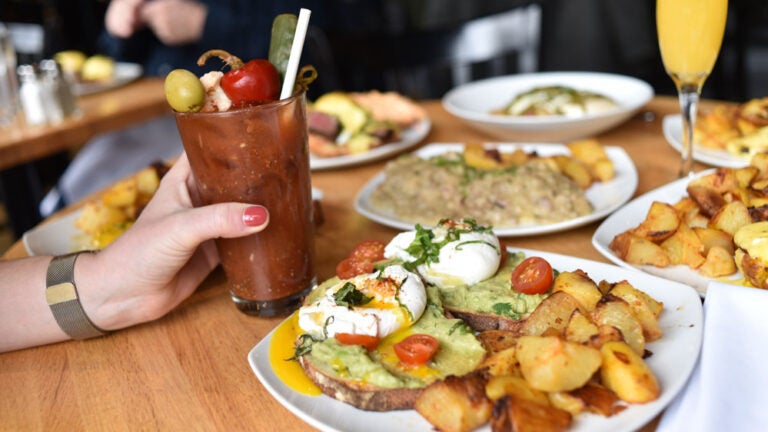 Conventional wisdom does not dictate that we mix vodka with tomato juice, add dashes of Worcestershire and Tobasco sauce, then pile the glass high with olives, peppers, cubes of cheese, shrimp, onion rings, and, for reasons that are still unclear, a barbecue rib. But here we are.
The Bloody Mary — a cocktail that has come to serve as the cornerstone of boozy brunch in America — is everywhere. Some places serve the drink in its most classic form, garnished with a celery stick and olives, while others leave customers to craft their most ostentatious creations at a Bloody Mary bar (hello, mini sliders on a stick).
We spoke to five industry professionals who serve the Bloody Mary about the apparently polarizing brunch cocktail.
Interviews have been condensed and lightly edited for clarity.
Nick Giannotti, bar manager at Tip Tap Room
"The Bloody at Tip Tap is very horseradish- and spice-heavy. To most guests, it's on the spicier side. About 10 years ago when I working at the late Flash's Cocktails with a legend named Stitch, she had this recipe for a Bloody. When Tip Tap opened, I brought it with me. It has gone through a few alterations over the years, but the theme stayed the same: Big, bold, and spicy are the main notes. While I can appreciate the Bloodys with stacks of shrimp and burgers and bacon and whatnot on top of them, ours with our spicy, pickled vegetables on top will always seem like the perfect amount of style points for me.
"I'm honestly not a huge Bloody Mary fan personally. The one time in my life I truly appreciated one was on a flight back to Boston from San Francisco, and it was premade nonsense that just acted as a vehicle to get the liquor into me."
(Bloody Mary at Tip Tap Room; 138 Cambridge St., Boston)
"The way our ultimate Bloody Mary works is, for $18 we build the Bloody Mary in a glass with vodka or tequila. We'll bring it over to the table, not garnished, and the customer can go through the self-garnish bar. We have olives, hot peppers, tomatoes, cucumbers, pickles, and a hot bar with ribs, bacon-wrapped scallops, shrimp cocktail. We're constantly expanding on it — we might see some sliders soon. I've seen a guy go through and put 40 shrimp on one.
"My girlfriend and I go out for brunch quite a bit and have Bloody Marys. On Saturday mornings after a long Friday night, it just has that hangover cure to it with the vitamins and the tomato juice. Kind of like the hair-of-the-dog thing."
(The Ultimate Bostonia Bloody Mary at Bostonia Public House; 131 State St., Boston)
"It's funny because I look at [the Bloody Mary] as a foundational drink. It's one of those drinks where it's made all different ways, whatever way the bar wants to build it. I'm not a fan of Bloody Mary bars, but that's just my personal opinion. I think people want to be presented with something. It's never going to be as great as it would be coming out consistently from a bar.
"[At Backyard Betty's], we do a house-infused jalapeño vodka with Bloody Mary mix, a Slim Jim, and then standard celery and olive fixings. When you see an almost foot-long Slim Jim coming at you, people start smiling. Personally, I'll have two Bloody Marys and then I'm on to the next drink. I'm a fat kid at heart, so I want to eat, too, and those drinks are filling. We use a mix — we don't make our Bloody Mary base — and one of my buddies this past weekend was like, 'Is this Zing Zang [mix]?' People have two or three Bloody Marys and all of a sudden they're experts on mixes."
(Sunday, Bloody Sunday at Backyard Betty's; 170 W. Broadway, Boston)
Will Piquette, senior bartender at Alcove
"To tell you the truth, the one time I've ever craved tomato juice was during a high school ski trip. I grew up in Miami, but that's the day I learned what a real sunburn was. I got my hands on a V8, and for one reason or another, it helped lessen the pain I was in and gave me a deep appreciation for the tomatoes' restorative powers.
"For personal brunch drinking, I favor the savory, sour Italian Greyhound, and it was my mission at Alcove to create a Bloody that echoed the Greyhound's vegetal, saline qualities. Ours uses house-infused vegetable vodka, golden balsamic vinegar, celery salt, and tomato juice. Whether you're sunburned or just recovering from last night, this Bloody will set you right."
(House Bloody Mary at Alcove; 50 Lovejoy Wharf, Boston)
"We offer our [Bloody Mary bar] every Saturday and Sunday. We put all of the fixings in Ball jars — celery, lime, onions, pepperoncini, bacon, pickles. We have a mini burger. People really do take full advantage [of the bar]. I think somebody recently said that our Bloody Mary was like sipping America in a drink.
"I personally like them spicy. I like heavy lime, heavy olives; I like horseradish in it, Worcestershire sauce, a little hit of sriracha, and then I do the salami and cheese skewer a lot. I think I've always really liked tomato juice. I hate V8, interestingly enough, but I really like good tomato juice with viscosity. I like food and drinks that really pack a punch, and I like spicy things, so the Bloody Mary makes sense as a drink for me."
(Bloody Mar Bar at MET Back Bay; 279 Dartmouth St., Boston)