Restaurants
A restaurant, all-day cafe, and rooftop bar are coming to East Cambridge
Meet Café Beatrice, Geppetto, and The Lexington.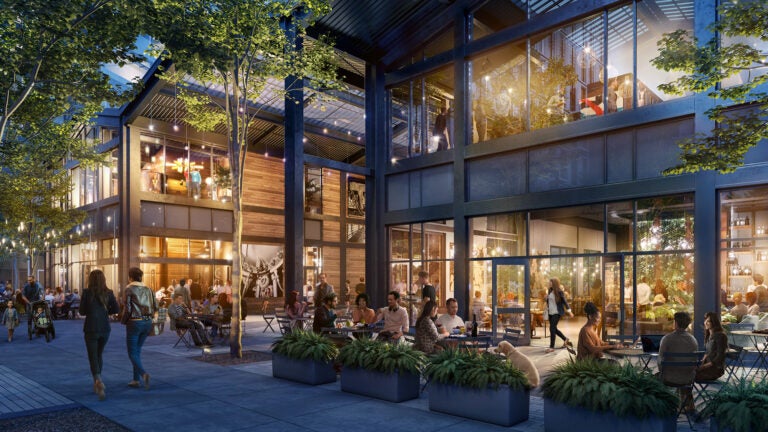 It's been a busy year for Will Gilson.
In early May 2019, the Puritan & Co. chef and owner opened Café Beatrice, an all-day, six-month pop-up located in the former Rabottini's Pizza space in Allston. Concentrating on breakfast sandwiches, open-faced toasts, and grain bowls, the cafe employed a more casual vibe compared to Puritan & Co.'s modern, refined atmosphere in Cambridge. Café Beatrice closed in October 2019, then went on to hold two weekend pop-ups in January.
Meanwhile, Gilson has been busy planning three new concepts: a restaurant, an all-day cafe, and a rooftop cocktail bar located at Cambridge Crossing (CX), a 43-acre, mixed-used development under construction in East Cambridge. On Thursday, additional details about the three projects were announced, all of which will be located in CX's retail building known as The Shed.
Café Beatrice will serve as The Shed's all-day cafe, one where pastry chef Brian Mercury will offer baked goods, breakfast sandwiches, salads, and grab-and-go items from 7 a.m. to 7 p.m. His grinder croissant, made popular during January's pop-ups, will be on the menu along with homemade doughnuts and a pizza of the day.
Geppetto is Gilson's 60-seat, full-service Italian restaurant that will offer house-made pastas and seasonal dishes. The restaurant will also have a 20-seat patio that will open in the warmer months.
The third concept is The Lexington, a rooftop bar and lounge which will highlight craft cocktails, shareable bites, and larger entrées. Gilson recently told Eater that Saltine-crusted fried oysters and a twin lobster roll lunch might be on the menu, which is still being nailed down.
"We are proud to introduce the first dining experience to CX, which is designed to be not just a restaurant but rather a destination within a growing and inclusive community," Gilson said in a press release last year. "We want to build a place that accommodates everyone from morning commuters grabbing a coffee, to residents and tenants in need of a quick bite, to friends enjoying a night out."
The Shed will be located at 320 Morgan Ave., and will be surrounded by a picnic grove, park, waterway, and space for outdoor games like bocce ball. Both CX and The Shed are currently under construction, with Gilson's concepts scheduled to open in June 2020. Once complete, the development will offer 2.1 million square feet of science and technology space, 2.4 million square feet of residential space, and 100,000 square feet of retail space.