Restaurants
Castle Island Brewing's Charlestown beer garden is now open for the summer season
Sip on a Tango Crush by the waterfront.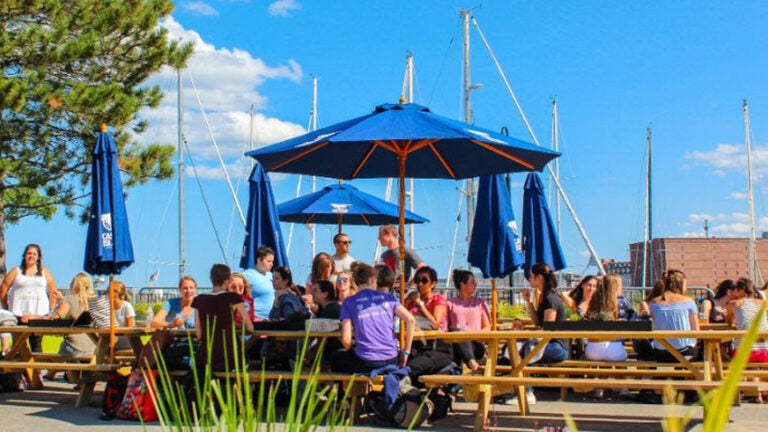 Castle Island is the latest brewery to join Boston's beer garden lineup, as Castle Island at Constitution Wharf returned for a second season on Thursday.
Taking its place next to the USS Constitution in Charlestown, the waterfront pop-up features communal picnic benches and a 20-tap draft trailer, and pours beer Thursdays through Sundays. Garden-goers will find the brewery's new year-round beer, White Ale, on tap, along with its flagship Keeper IPA, award-winning American Lager, and limited releases from its Norwood brewery. Wine, gluten-free options, and nonalcoholic drinks like cold brew and Spindrift Seltzer are also available.
"After a successful few months in Charlestown last year, we are very excited to be returning this year," said Castle Island president Adam Romanow in a press release. "The community was super supportive and welcoming last summer, and we look forward to continuing to build and strengthen that relationship in the coming weeks."
The dog-friendly Charlestown beer garden plans on hosting food trucks and events throughout the season, and offers on-site games to play while taking in views of the Boston skyline.
Castle Island at Constitution Wharf; 1 Constitution Road, Boston; Thursdays and Fridays from 3 p.m.–9 p.m., Saturdays from noon–9 p.m., Sundays from noon–7 p.m.; castleislandbeer.com