Restaurants
An outdoor dining option opens at the New England Aquarium this week with an iced shellfish bar and three types of charcuterie boards
The waterfront restaurant has a focus on sustainable seafood.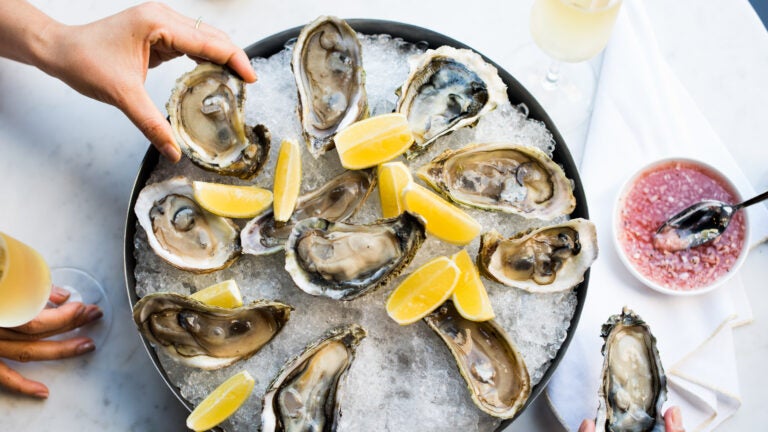 The New England Aquarium will welcome the summer season on Thursday by opening Reef Bar, where guests can sip cocktails and munch on lobster rolls while looking out at Boston Harbor.
Located on the Aquarium Plaza, the waterfront restaurant will open on June 13 with a menu featuring fresh seafood, sandwiches, and salads.
Notable menu items include an iced shellfish bar and charcuterie boards in meat, plant-based, and seafood varieties. The seafood board is made up of blue fish pâté, salmon pastrami, cod brandade, and ocean kimchi, while the vegan option is stocked with smoked beet carnitas, mushroom pâté, grilled king trumpet mushrooms, sliced vegan sausages, tamari almonds, and pickled vegetables.
The restaurant worked with the aquarium's Anderson Cabot Center for Ocean Life to source as many ingredients as possible from local sources, including its clams, lobster, mussels, and oysters. In the same vein, Reef Bar will exclusively carry paper straws, which are only available by request, and provide compostable disposable products.
The outpost also offers an array of craft cocktails, including a concoction of Bacardi Silver rum, fresh ginger, lime juice, and mint called the "Cunning Cuttlefish," a mix of Tito's vodka, St. Elder elderflower liqueur, grapefruit juice, and sparkling rosé called the "Rockhopper," and a combination of Jose Cuervo Silver tequila, hibiscus liqueur, ginger liqueur, and lime juice called "The Myrtle."
Designed by local firm Bergmeyer, the Patina Restaurant Group spot has been made with an open-air look inspired by coral reefs and the sea.  Guests can expect to be seated among distressed wood and under a wavy ceiling concept strung with lights. The restaurant offers bar seating, communal tables, and tables for two and four.
Reef Bar will be open through the summer between 11 a.m. and 8 p.m. on Sunday through Friday and between 11 a.m. and 9 p.m. on Saturday.