Restaurants
A new cafe and bakery on Newbury Street specializes in whimsical, geometric desserts
Pastry chef Dinara Kasko uses 3D technology to create sweet, edible inventions at Jonquils.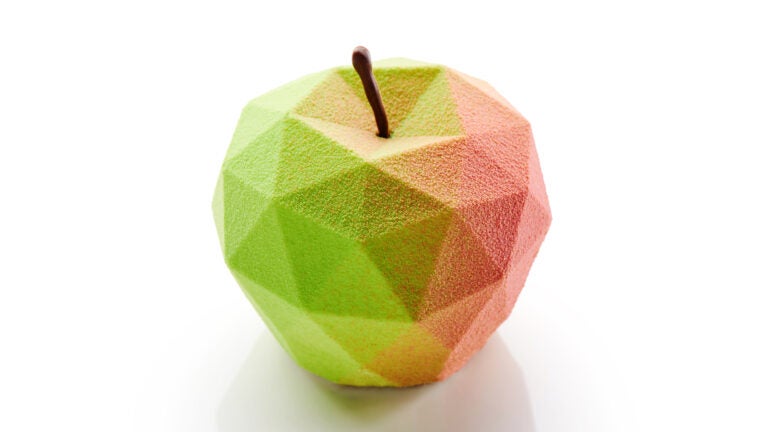 At Jonquils Cafe & Bakery, 3D printers are just as vital as whisks and blenders.
Named after a daffodil-like flower, Jonquils opened Thursday on Newbury Street with ultra-modern desserts from pastry chef Dinara Kasko. The Ukranian-born chef, who originally set out to become an architect, is known for using a 3D printer to create silicon molds that can shape cakes and other pastries into edible geometric dishes.
The dessert menu includes inventive items like the Apple Caramel, an angular apple-shaped pastry that, when sliced open, reveals apple confit, soft caramel, cream cheese, and chocolate sponge cake. Other creations include Cherry, a bulbous sphere with dark chocolate mousse, cherry confit, crunch, and chocolate sponge cake; and Exotique Spheres, a Rubik's Cube-like dessert with mango and passion fruit cremeux, crunch, and vanilla mousse.
The soft-open menu also includes savory tartines, croissants, and grab-and-go items like yogurt parfait and chia pudding. On Monday, once the cafe is in full swing, sandwiches, quiches, and steamed bowls will be added to the menu, including the To Sea, a steamed bowl with salmon, avocado, shiitake mushrooms, arugula, shaved rainbow carrots, asparagus, red rice, and quinoa.
An extensive coffee and tea menu is available as well, with coffee beans from Gracenote and loose leaf teas from Rishi. Other specialty drinks include Blue Moon matcha milk tea, earl grey lavender latte, and espresso tonic.
Inside the two-story, 2,100-square-foot space, a living wall features yellow daffodils running along the façade, while exposed stone and brick walls give the cafe a more rustic feel.
Jonquils will begin operating with regular hours (7 a.m.–9 p.m.) on Friday.
Jonquils Cafe & Bakery; 125 Newbury St., Boston; Daily 7 a.m.–9 p.m.; jonquilscafe.com