Restaurants
Mike & Patty's will open a second location in a downtown food hall
The popular sandwich shop is expanding to High Street Place.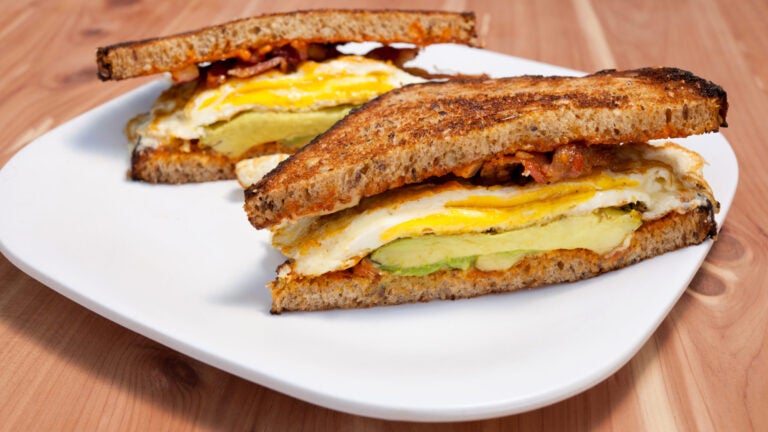 A tiny breakfast spot with a huge following is growing its sandwich footprint.
Mike & Patty's is the latest concept to join the food and drink lineup at High Street Place, a 20,000-square-foot food hall scheduled to open downtown at 100 High St. in late fall. The famed sandwich shop, which boasts consistent lines at its Bay Village location, is known for serving a concise menu of primarily breakfast sandwiches, along with a grilled cheese, a turkey sandwich, and an Impossible burger. Regulars and tourists alike line up for the Fancy (two fried eggs, bacon, cheddar cheese, avocado, red onions, and house mayonaise on toasted Iggy's multigrain bread), the breakfast torta (two fried eggs, cheddar cheese, potatoes, black beans, salsa, and avocado on an Iggy's sesame torta roll), and other breakfast dishes.
On weekends, owners Mike Gurevich and Ania Zaroda also serve Mike & Patty's sandwiches at Hot Box, a roast beef sandwich and pizza shop they opened at Somerville's Bow Market in September.
Gurevich told Boston.com that the bigger High Street Place location will offer an ideal way to reach more of the downtown work crowd.
"We miss a lot of main traffic that comes through the city, so basically we've been on the hunt for a long time for an option that allows us to get into more of the downtown area of the city," he said. "We don't want a carbon copy of the restaurant at the food hall, but I think it's safe to say that the people who are used to our first location will find a lot to love about the new location."
Gurevich said that it's too early to comment on the High Street Place menu, but that it will be similar to the original's while also offering some different items.
In April, High Street Place announced its first wave of vendors, which will include Dive Bar, a New Orleans-inspired raw bar from chef Tiffani Faison (Sweet Cheeks, Tiger Mama, Fool's Errand); Noodle BOS, where guests will be able to create their own ramen and rice bowls; Daiquiris & Daisies, a cocktail bar from two industry veterans behind Backbar, Jm Curley, and Hojoko; and more.
High Street Place; 100 High St., Boston; highstreetplace.com; opening Fall 2019