Restaurants
A trendy New York City ice cream shop opens in Chestnut Hill on Friday
OddFellows Ice Cream Co.'s savory flavors will land at The Street.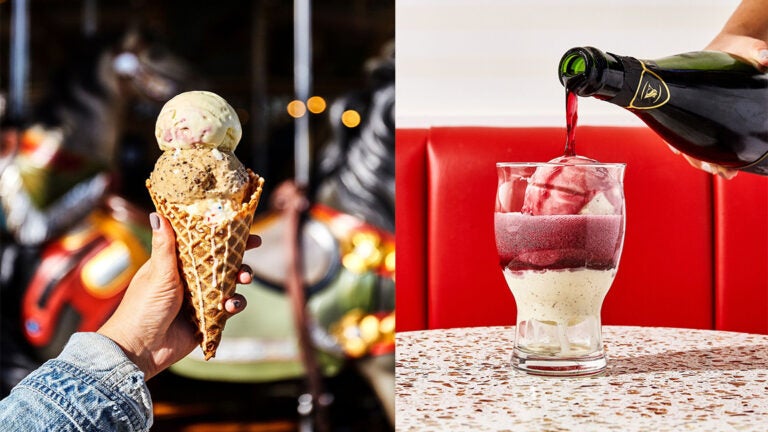 Chorizo caramel swirl. Extra virgin olive oil. Black pepper fig.
The ice cream flavors at OddFellows Ice Cream Co. have been known to raise more than a few eyebrows for their savory, culinary-driven bent. But ever since the New York City-based shop opened its first outpost in 2013 in Williamsburg, the company — which now operates four additional NYC scoop shops with another one on the way — has been a favorite among those looking for a sweet and savory snack. Its next act is local: OddFellows will open its first location outside of New York at The Street Chestnut Hill.
Debuting on Friday, the shop will offer selections from its roster of over 400 original flavors along with sorbet, non-dairy ice cream, and, later in the fall, will serve craft beer, natural wine, and its popular beer and wine floats. Friday's opening menu will also feature a limited-edition basil chip flavor from Fox & the Knife's chef Karen Akunowicz; the collaboration is part of OddFellows' "Boston's Best x OddFellows" chef series, which will continue to feature additional chef collabs in the next few months.
Located underneath the Legal Sea Foods at The Street, the new shop is reminiscent of a 1950s ice cream parlor, complete with red and white tiles, mirrored walls, and built-in bar stools along a 21-foot bar. On sunny days, customers can enjoy ice cream on the outdoor patio before (or after) exploring the other shops and restaurants at the open-air shopping center: Vince, Splendid, Aquitane, Juice Press, Chilacates, and the recently revamped Chef Ronsky's Trattoria.
OddFellows was co-founded by Mohan Kumar, Holiday Kumar, and Sam Mason, when, in 2011, Mohan attempted to satisfy his wife Holiday's pregnancy cravings for savory ice cream. He appealed to his friend Mason, a former pastry chef at NYC's esteemed wd~50, who whipped up a pint of salty pretzel ice cream — and, two years later, an ice cream company was born.
"We are thrilled to be coming to Boston and Chestnut Hill for so many reasons," said Mohan in a press release. "Boston is a great ice cream city that appreciates quality, so we knew it would be the perfect location for our first shop outside of New York City! We're excited to be part of the community and showcase our unique flavors, as well as our classics, for all to indulge in year-round."
Take a look at OddFellows' opening menu below.
OddFellows Ice Cream Co. at The Street Chestnut Hill; 33 Boylston St., Chestnut Hill; Sundays–Thursdays from noon–11 p.m., Fridays–Saturdays from noon–midnight; oddfellowsnyc.com;