Restaurants
Time Out Market Boston is now open in the Fenway
The expansive food hall debuted to the public on Thursday morning.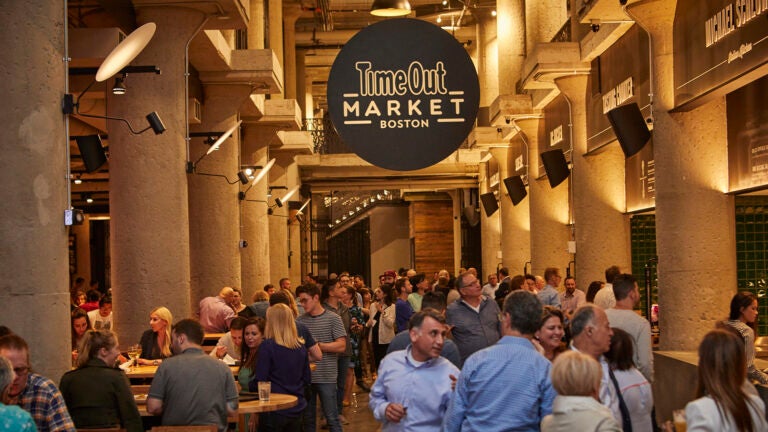 A long-awaited food hall in the Fenway has finally arrived.
Time Out Market Boston opened to the public Thursday morning with 15 restaurants and two bars, including a smorgasbord of vendors and dishes that draw from Italian, Mediterranean, Japanese, and American influences. While only four of the concepts are open for breakfast, the full lineup is open for lunch and dinner, and features some of the city's most popular chefs.
At Saltie Girl, run by restaurateur Kathy Sidell and chef Kyle McClell, visitors are able to order lobster rolls and the restaurant's signature tinned seafood, in addition to fried clam rolls, clam chowder, and other fresh seafood dishes. At Greek Street, James Beard Award winner Jody Adams serves fast-casual Greek dishes like swordfish souvlaki, cumin-spiced beef patties, and pork schnitzel with Greek herbs. And at the market's two bars, recognizable names can be found on craft beer taps, including Night Shift Brewing Co., Prospect Ciderworks, and Fore River Brewing Co. Kombucha and mocktails are also available.
Other standout chefs at the market include Michael Schlow, who opened two Italian-inspired vendors; Craigie on Main's Tony Maws, who created variations of his famous burger at Craigie Burger; and Tasting Counter's Peter Ungár, who offers one of the market's more upscale experiences. Chefs Tim and Nancy Cushman (Hojoko, O Ya) brought two concepts to the space: Ms. Cluck's Deluxe Chicken & Dumplings, which serves an Asian-inspired spin on chicken and dumplings, and gogo ya, which has standout nori sushi tacos. Visitors with a sweet tooth can find gelato at Gelato & Chill and doughnuts at Union Square Donuts, while those in need of a caffeine hit can stop by George Howell Coffee.
"Time Out Market Boston will bring a new and unique experience to the city and one of its greatest neighborhoods, The Fenway," Time Out Market CEO Didier Souillat said in a press release. "… We are incredibly proud that Boston's most outstanding chefs have accepted our invitation to join Time Out Market – they have all been carefully chosen by our Time Out editors to bring the best of Boston under one roof and offer a true taste of the city."
Located on the ground floor of the 401 Park Drive building, Time Out Market Boston features 15 eateries, two bars, and a retail shop. Within the 25,000-square-foot space, diners can eat at communal style seating in the historic Art Deco space. A series of cultural events at the market will also be offered in the near future.
A branch of the Time Out Group, Time Out Market first launched in Lisbon in 2014, and was subsequently followed by Time Out Market Miami and Time Out New York in May. More markets are scheduled to open across the globe in the near future, including Chicago and Montreal later this year, Dubai in 2020, London-Waterloo in 2021, and Prague in 2022.
Check out the full Time Out Market Boston lineup of chefs and restaurants below:
Anoush'ella
BISq
Craigie Burger
Gelato & Chill
George Howell Coffee
Gogo Ya
Greek Street
Mamaleh's Delicatessen
Monti
Ms. Cluck's Deluxe Chicken & Dumplings
Revolution Health Kitchen
Saltie Girl
Michael Schlow's
Tasting Counter
Union Square Donuts
Time Out Market Boston; 401 Park Drive, Boston; Mondays–Thursdays from 7:30 a.m.–11 p.m., Fridays from 7:30 a.m–midnight, Saturdays from 9 a.m.–midnight, Sundays from 9 a.m.–11 p.m.; timeoutmarket.com/boston