Restaurants
The definitive guide to the 15 restaurants and bars at Encore Boston Harbor
Everett's new casino resort aims to celebrate the best of New England's culinary scene.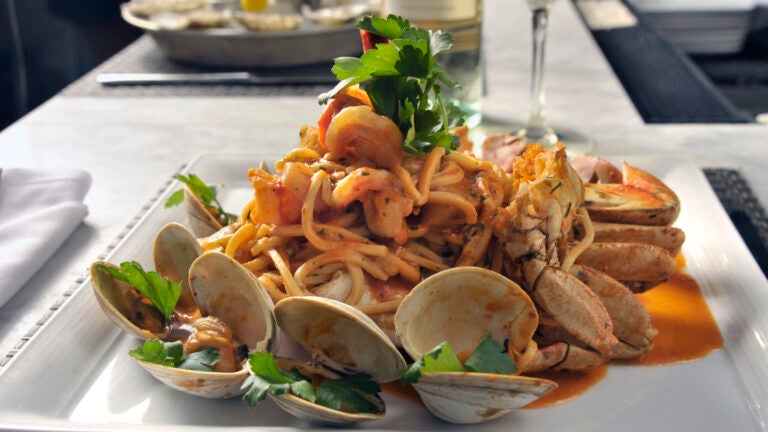 As one of Boston's most anticipated openings of 2019, the buzz around the Encore Boston Harbor, which will debut to the public at 10 a.m. on June 23, is palpable. And it's not just about the gambling. Fifteen restaurants and bars are part of the complex, a collection that includes a casual sports bar, an upscale steakhouse, a sultry Chinese restaurant, and — is anyone surprised? — a Dunkin'.
"It's a true regional project," Warren Richards, Encore's executive director of food and beverage, told Boston.com. "There's a sense of place and character operating in a region like New England that, to be honest, you don't really have in a place like Las Vegas. Within 200 miles of Boston, you have world-class cuisine, world-class seafood, world-class spirits, craft beer, cheeses, blueberries. The list goes on. To build a program here that would reflect those elements was very appealing."
Encore has pulled in food and beverage talent from across the city, with a lineup of restaurants and chefs that embody New England. Chef John Ross left his esteemed role at Neptune Oyster to open two seafood concepts here, while two of the North End's biggest restaurateurs teamed up to open a classic Italian restaurant. Bully Boy Distillers crafted an Encore Boston Harbor Gin, served in cocktails throughout the hotel, and Lord Hobo brewed the Encore-exclusive Project Baccarat, a juicy IPA available in select Encore restaurants and bars.
There are still casino rules to consider, of course. While most of the concepts are open to all guests, the restaurants on the casino floor are only available to those who are 21 and over. The casino floor is also where gamblers are able to order drinks until 4 a.m — though bars close for the night at 2 a.m. After a dry four hours, drinks are available on the floor again starting at 8 a.m.
Reservations are now available for select restaurants within Encore. Not sure where to dine first? Here's a guide to all 15 restaurants and bars at the resort, from a whimsical buffet to an intimate oyster bar.
Bru
Sleep can be a foreign concept at casinos, which is why a 24-hour coffee shop is key. At Bru, espresso, smoothies, and specialty teas fuel whatever it is you're about to do next (gamble? dance?), while cakes, ice cream, and other sweets keep the sugar rush going. Breakfast is served from 5 a.m. to 11:30 a.m., whether that's right before you go to sleep or just after you wake up. Hours: Daily 24 hours.
The Buffet
A replica of its counterpart at Wynn Las Vegas, The Buffet is set in an "Alice in Wonderland"-esque dining room, complete with colorful furniture, towering flower sculptures, and decadent food stations, including one dedicated to rows of indulgent desserts. Hours: Mondays–Fridays from 11 a.m.–3:30 p.m. and 4 p.m.–10 p.m., Saturdays and Sundays from 9 a.m.–3:30 p.m. and 4 p.m.–10 p.m.
Center Bar
Flanked by two staircases and situated in the center of the casino floor, this watering hole offers prime people-watching views from all 28 of its coveted seats. The fully-stocked bar includes beer, wine, and spirits. Hours: Daily 8 a.m.–2 a.m.
Dunkin'
The Dunkin' at Encore is open 24 hours a day and features the company's Next Generation design, along with custom finishes that match Encore's overall aesthetic. The menu includes traditional Dunkin' items like breakfast sandwiches, doughnuts, and coffee. But don't think about bringing the kiddos — since it's on the casino floor, customers have to be 21 or over. Hours: 24 hours daily.
Fratelli
Fratelli is Italian for "brothers," which makes sense when you think about who owns the casino's coastal Italian restaurant: Frank DePasquale and Nick Varano, famed restaurateurs with a familial bond who, between the two of them, have opened a handful of Boston favorites like Strega, Nico, Bricco, and Mare. The 150-seat spot, located just off the casino floor, will feature a risotto of the day, classic carbonara, truffle-crusted tuna, braised beef short ribs, fritto misto, and more. Hours: Daily 11 a.m.–4 p.m.
Garden Cafe
Within the garden lobby are two concepts: Garden Cafe and Garden Lounge. At the cafe, seasonally-inspired dishes dominate the casual restaurant, where breakfast, lunch, and dinners are served daily. Hours: Mondays–Fridays from 7 a.m.–10 p.m., Saturdays and Sundays from 7 a.m.–11:30 a.m. and 3 p.m.–10 p.m.
Garden Lounge
After a bite at the cafe, diners might want to head over to the nearby Garden Lounge, a sleek cocktail bar overlooking the garden lobby. Beer, wine, and craft cocktails are all available here. Hours: Sundays–Thursdays from 11:30 a.m.–10 p.m., Fridays and Saturdays from 11:30 a.m.–midnight
Mémoire
Encore's signature nightclub holds up to 650 guests and offers 20 VIP tables where revelers can order bottle service. Multiple bars are scattered throughout the 8,000-square-foot space, which is decked out with marble tables, chandeliers, and gold accents. The club is kicking things off with a bang: Steve Aioki and DJ Diesel, the stage name of NBA legend Shaquille O'Neal, are headliners during the club's opening week. Hours: Fridays–Sundays from 10 p.m.–2 a.m.; Mondays–Thursdays hours vary according to private events.
Mystique
A robata grill takes center stage at Mystique, Encore's 16,400-square-foot Pan-Asian restaurant overlooking the Mystic River. Executive chef Anthony Micari leads the kitchen, making dishes like Japanese New York Strip and a caveman-esque Tomahawk, as well as smoked black garlic short rib and Szechuan duck. Sushi, sashimi, and omakase specials are also available, and they're all made with fish flown in daily from Japan. Hours: Sundays–Thursdays from 11:30 a.m.–1a.m., Fridays and Saturdays from 11:30 a.m.–2 a.m. 
On Deck Burger Bar
The casino comes prepared for major sporting events with its sports bar: On Deck Burger Bar. True to its name, the bar serves gourmet burgers and classic sports bar grub with a clear view of the gaming floor — just in case the game on TV doesn't hold your attention. Hours: Sundays–Thursdays from 11:30 a.m.–10 p.m., Fridays and Saturdays from 11:30 a.m.–2 a.m.
Oyster Bar
Former Neptune Oyster chef John Ross left the famed North End seafood spot to open two concepts at Encore: Oyster Bar and Waterfront. At Oyster Bar, an intimate dining experience with fewer than 30 seats highlights ceviches, crudos, freshly shucked oysters, and other raw bar delicacies, as well as a mini version of Ross' beloved lobster roll that he crafted at Neptune. Hours: Sundays–Thursdays from 11 a.m.–10 p.m., Fridays and Saturdays from 11 a.m.–11 p.m.
Rare Steakhouse
White tablecloths and a clean color palette adorn Rare, an upscale steakhouse serving hard-to-find cuts of Japanese Wagyu, including Kobe beef from the Hyogo Prefecture and Sanuki olive beef from the Seto Inland Sea. Also on chef Taylor Kearney's menu: American wagyu from Snake River Farms in Idaho, fresh local seafood, and an extensive bourbon and scotch selection. Guests can look out onto waterfront views from indoor and outdoor patios, enjoy dinner in the sleek dining room, or pop in for a drink at the bar. Hours: Daily 4 p.m.–10 p.m.
Red 8
A Wynn hotel staple, Red 8 is located on Encore's south gaming floor, where chef Ivan Yuen devised a menu drawing from regional cuisines throughout China. Diners can find dishes like Peking-style duck, steamed Shanghai pork soup dumplings, and Yangzhou fried rice, all served in a dining room that boasts mahogany and brass accents, red crocodile-textured walls, marble floors, and coved ceilings. Hours: Sundays–Thursdays from 11:30 a.m.–10 p.m., Fridays and Saturdays from 11:30 a.m.–3 a.m.
Sinatra
Located next to Mystique, Sinatra is another sister restaurant from Encore's Las Vegas location. The concept specializes in classic Italian dishes, like Frank's Clams Posilipo, Ossobuco "My Way" with saffron risotto Milanese, and veal parmigiana. A private room dubbed "The Chairman's Room" is geared toward special parties — and yes, you will likely hear classic tunes from Ol' Blue Eyes in the background. Hours: Daily 4 p.m.–10 p.m.
Waterfront
The second restaurant from chef Ross is more casual than Oyster Bar. Inside an 80-seat dining room, casual pub food is served (as well as full-size lobster rolls) alongside an extensive craft beer program that exclusively pours New England beers, including those from Night Shift, Down the Road, Lord Hobo, Stony Creek, and more. Just don't expect waterfront views — despite its name, the restaurant doesn't actually have a view of the water. Hours: Mondays–Thursdays from 4 p.m.–11 p.m., Fridays and Saturdays from 11 a.m.–2 a.m., Sundays from 11 a.m.–10 p.m.