Restaurants
The Fairmont Copley Plaza goes farm-to-bar with a new cocktail series
OAK Long Bar + Kitchen introduces The Copley Square Farmers Market Special, a monthly changing cocktail based on what's fresh in the market.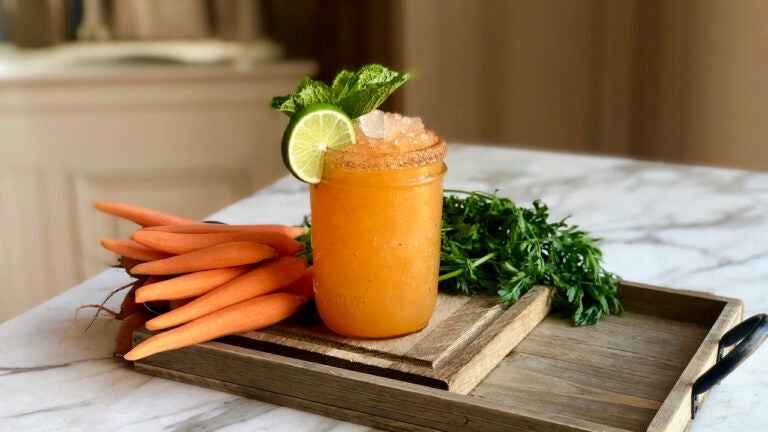 Mushrooms, carrots, corn, watercress, and peas: These are the ingredients the team at OAK Long Bar and Kitchen, inside the Fairmont Copley Plaza hotel, has been experimenting with in recent months.
But not just in the kitchen — at the bar. 
"I've been a longtime fan of the farm-to-table movement and watched the team in the kitchen using seasonal local ingredients. I thought, why not have the bar be a part of that?" said Daniel Loperfido, general manager of OAK Long Bar + Kitchen.
In April, Loperfido met up with the Copley Square Farmers Market team, including Edith Murnane, executive director of Mass Farmers Markets, to discuss ways to collaborate.
"We listened to what the farmers had to say to see how we could get involved, and we integrated ourselves into the community," Loperfido said. "We got a schedule of what will be ripe and when."
The first drink they came up with is the Oak Old Fashioned, made with bourbon, bitters, and Mycoterra Farm shiitake mushroom extract.
"Initially, when we thought about what we are going to do, we started playing around with mushrooms," Loperfido said. "It was so cold and rainy this spring, and there was limited produce. We walked past the Mycoterra farm stand and began looking at what they had."
The South Deerfield farm specializes in organically grown mushrooms and makes the concentrated extract.
"Mushroom is an incredible flavor enhancer. It promotes roundness and body and depth," Loperfido said. "The Old Fashioned immediately became a No. 1 best-seller. We sell 30 of those a day usually."
Clearly, a cocktail made with mushrooms doesn't deter drinkers.
"I think if we put mushroom on the ingredient list, people might not accept it so easily, but mushroom extract doesn't seem to put people off," Loperfido said.
Because the extract is readily available year-round, the Oak Old Fashioned is now a permanent fixture. But Loperfido wanted to use the seasonal fresh vegetable schedule to create the monthly-changing series. The team started with carrots: The gorgeously bright orange Keep Calm And Carrot On includes a tequila and mescal blend, a syrup made with freshly juiced carrots and fresh turmeric, lemon bitters, and an apricot shrub.
"The carrot, turmeric, and apricot flavors together are delicious," Loperfido said.
Fruit flavors naturally become popular for summer drinks, but he's hesitant: "We will not do what's expected," he said. "We want to transform them: maybe the berries will be a component of a shrub, or be a jam — or something textural. We're looking at strawberries paired with a spicy green, like watercress."
It is very much trial and error, and a learning process: "We've been playing around with peas, English peas in a gin sling. But we might go towards beets. We've been looking at a white whiskey with corn — maybe roasted corn and basil," he said.
But it all depends on Mother Nature.
"We don't say we want this and that; we go to the market and let the farmers tell us what is fresh," he said. "Our kitchen looks at what's local and fresh and tastes delicious. It's bringing a fine dining element to the bar."