Restaurants
The owners of Bronwyn are opening T&B Pizza in Union Square
Two styles of pizza shine at the new Somerville restaurant opening on Tuesday.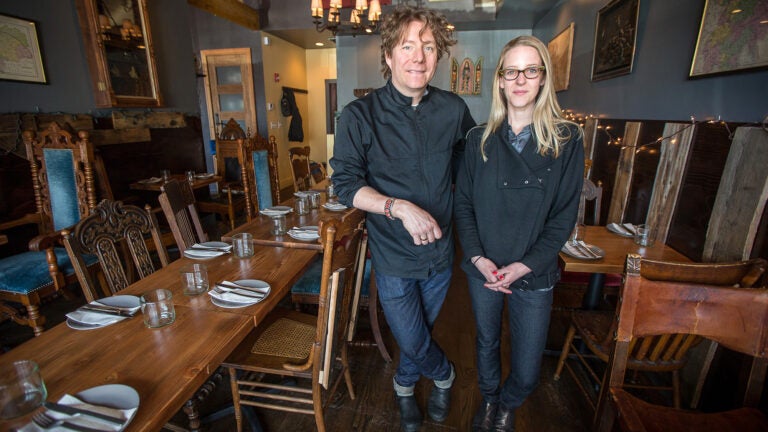 Bronwyn and Tim Wiechmann created a dining destination in Somerville's Union Square with Bronwyn, a German and Central European biergarten that opened in 2013. But their latest project is far from sausages and beer. This time around, it's all about pizza.
T&B Pizza will open on Tuesday evening, just two doors down from Bronwyn. While most pizzerias tend to focus on one particular style — Neapolitan, Chicago deep dish, Detroit — T&B will offer two different styles: Neapolitan and Roman al taglio, both cooked in a wood-fired oven from Maine Wood Heat Co.
"I fell in love with al taglio pizza," Tim said, explaining that while he ate plenty of the hefty square "slices" in Italy, he really started to appreciate the style when he started making it. "I also like the classic [Neapolitan], and I wanted to do something that people know and also something that is new."
The difference, aside from each style's shape, lies in the dough. At T&B, Neapolitan dough is fermented for three days before it's wood-fired in a classic, circular pie form, resulting in thin, crispy slices. The al taglio dough is fermented for 36 hours in bulk then wood-fired, creating a thick base that is crispy on the outside, soft on the inside, and capable of supporting a more diverse range of toppings.
"You can't put a ceviche on top of a Neapolitan [pizza] — it's weird," Tim said. "But the al talgio lends itself as a vehicle for different toppings."
There will be seven Neapolitan options on T&B's opening menu, ranging from a potato pie with Spring Brook Farm Reading raclette cheese and cornichons to a pineapple pie with smoked ham and rum-soaked pineapple. Out of the four al taglio pizzas, three will be heavy on the seafood, including a crudo, scallop ceviche, and lobster and butter option. The sides will highlight New England artisan cheeses and farm-fresh ingredients, with a baby lettuce and goat cheese salad and a charcuterie board that will include speck, mortadella, prosciutto, and condiments.
While Bronwyn's drink menu is an Eastern European beer bonanza, T&B will highlight local craft beer from Exhibit A, Artifact Cider, Jack's Abby, Winter Hill Brewing, and other New England breweries. Wine and cocktails will be available as well; those looking for a classic Italian negroni or a spritz to pair with their pizza will be able to find one here.
For the Wiechmanns, T&B will be a distinct departure from both Bronwyn and T.W. Food, a fine dining destination that operated in Cambridge for a decade (it closed in early 2017; the space is now Talulla). Tim said that it's all about needing a change and a challenge.
"It's just kind of a journey — not doing the same thing over and over again and wanting to put new things out," he said.
T&B Pizza will serve dinner six nights a week, starting at 5:30 p.m. on Tuesday.
T&B Pizza; 251 Washington St., Somerville; Tuesdays–Sundays from 5:30 p.m.–10 p.m.; tbpizza.com