Restaurants
Peregrine lands on Beacon Hill with a focus on Mediterranean flavors
Take a first look at the soft open dinner menu.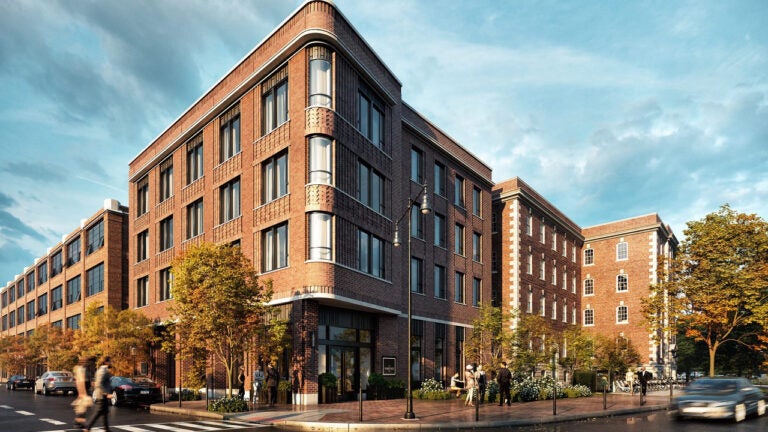 Chef Joshua Lewin and Katrina Jazayeri have already found national success with their Somerville hit Juliet, a cozy cafe and restaurant that offers seasonally-driven tasting and à la carte menus.
For their next act, they're celebrating the flavors of the Mediterranean at Peregrine, which soft opened inside the new Whitney Hotel on Wednesday morning.
Peregrine serves breakfast, lunch, and dinner, and it's located adjacent to the hotel's ground-floor lobby on Charles Street on Beacon Hill. At the center of the space is a roughly 10-seat bar, with a smattering of tables and chairs filling the rest of the dining room. Caramel-colored leather booths and navy blue walls give Peregrine a warm, modern feel, and large windows on either side of the restaurant allow plenty of light to steep through.
Breakfast runs from 6:30 a.m. to 10:30 a.m. daily, and includes quick bites like smashed chickpeas on toast, Spanish-style tomato bread, and Greek yogurt with local honey and olive oil. Guests who have time to spare in the morning can spring for the buckwheat pancakes or the omelette Francese, which can be ordered with Parmigiano and mushrooms or Pecorino and breadcrumbs.
The all-day menu, which includes lunch and dinner and is offered from 11 a.m. to 11 p.m., is a medley of snacks, antipasti, appetizers, pasta, and secondi. It's a more obvious testament to the Mediterranean flavors at work here, with dishes that nod to Sardinia, Sicily, Corsica, and Catalonia.
"The bottom line is that we have a bullseye set in Sardina," Lewin told Boston.com. "You hear 'Sardinia' and you think 'Oh, Italian,' but there's a lot of really focused regionality there. A really fun thing happens in the interplay of cultures within Sardinia because it's so close in proximity to Corsica — so you have the French influence in Corsica — and Barcelona, where you get the Catalonian [influence], and that's celebrated through the menu."
Guests can find this melding of cultures in the Catalonian tomato bread and garlic gulf shrimp appetizers, as well as the Catalan favorite Jamon Serrano, a ham that Lewin calls "the best everyday ham on Earth." Sardinian sheep's milk is offered throughout the menu, and the steak, Lewin said, is cooked with both Catalan and Italian influences.
Pasta dishes — braised chicken pappardelle, wild mushroom ravioli, lemon and herb farfalle — are available in small and large portions, allowing diners to incorporate the course as one part of a multi-course meal or the main act. Other dishes include saffron-marinated chicken breast and wild Chatham mussels and local clams.
Jazayeri, who runs the beverage program at Juliet, curated Peregrine's drink menu, which incorporates Spanish, Italian, and Sardinian wines, as well as cocktails (a negroni, spritz, and Paper Falcon are all on the soft-open menu), and local beer, like Springdale Pearly Wit and Oxbow Farmhouse Pale Ale.
"Katrina's philosophy around the sourcing of wine is to be careful not to be too specific to wines from a particular place," said Lewin, who stressed that the wine has to qualify in taste, pair well with the food, and come from a producer they are excited to support. "We think, 'Maybe you haven't heard of these [wine producers] but you should, and we'd like to tell you their story.'"
When asked how Lewin and Jazayeri are going to share their time between Peregrine and Juliet, Lewin laughed.
"We don't know yet," he said. "But we have an amazing team at Juliet. Over the past month or two, we've really been testing the waters and transferring responsibility slowly but steadily — and very sustainably, we think."
He said that they will be at Peregrine full time for a number of months, before being able to see both restaurants regularly sometime in the near future.
"Together we're going through this period of growth," he said. "We're trying new things."
Peregrine will officially open with a full menu on July 8. Take a look at the dinner menu offered during its soft open below.
Peregrine at the Whitney Hotel; 170 Charles St., Boston; Mondays–Fridays from 6:30 a.m.–10 a.m., 11 a.m.–9:30 p.m.; Saturdays and Sundays from 6:30 a.m.–2:30 p.m., 5 p.m.–9:30 p.m.; peregrineboston.com