Restaurants
The Boston Pizza Festival is back with some wild pizza creations
Cone-shaped pizza? Anything is possible.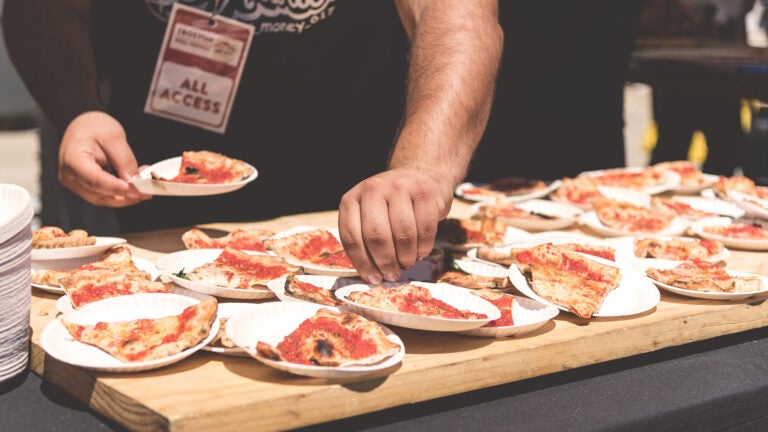 Everyone has their favorite go-to pizza joint — if not for the quality of the slices, than for the sheer proximity to home — but may we suggest City Hall Plaza for your next pizza run?
On July 13 and 14, the plaza will host the third annual Boston Pizza Festival, a pie-filled bonanza featuring talented artisans from Boston, New Jersey, Washington, D.C., Lowell, and the motherland itself: Naples, Italy.
Tickets ($15 for GA, $50 for VIP) include entry into the event — and, in the case of VIP, one hour of early entry and all-you-can-eat pizza from 11 a.m. to noon — but from there, attendees have to purchase slices and beverages separately. Slices start at $2 apiece.
With more than 30 vendors participating, including local all-stars Union Park Pizza, Rina's Pizzeria, Regina Pizzeria, and Sal's Pizza, a strategy for making the most of the afternoon is necessary. Here are five vendors that are taking risks with their pies, injecting some creativity to the festival by diverting from the standard margherita or pepperoni slices.
Caffe Quattro
This Italian cafe in the South End is known for its extensive lineup of sandwiches, salads, and thin-crust pizza. At the fest, Quattro will take the sweet-and-spicy route with a fruit-forward pizza featuring sliced pear, gorgonzola cheese, and Mike's Hot Honey Sauce, a New York-based company that infuses its honey with chili peppers.
The Nutella Pizza Stand
Crêpe, meet pizza. After a day spent devouring savory slices dripping with sauce and cheese, the Nutella Pizza Stand, which is created by the Boston Pizza Festival, will serve sweet slices slathered in Nutella, along with Nutella-compatible toppings like bananas. Pay the stand a visit for dessert if you have any room left.
Pizza e Fantasia
As one of four pizzerias from Naples tossing dough at the festival, Pizza e Fantasia aims to stand out with its signature dish: Fried pizza. A popular variation in Naples, fried pizza — known as pizza fritta — more closely resembles fried dough, with a deep-fried disc topped with sauce and other accoutrements. The toppings haven't been revealed yet, but you can be sure the Italian vendor will draw long lines for its unconventional pies.
Tammy's Pizza Cones
For a creative reimagining of pizza, festival-goers can stop by returning vendor Tammy's and pick up a pizza cone. The doughy cylinder acts as a chewy vehicle for sausage, pepperoni, and cheese, and it'll be a reprieve from the triangle slices that populate the plaza.
The White Bull Tavern
With a brick-and-mortar location a block away at Faneuil Hall, the White Bull Tavern is stepping up its game with a gourmet option that goes beyond pepperoni and cheese. The vendor will serve The Saucehound, a pie made with BBQ pulled pork, shredded jack and cheddar cheeses, pickled onions, and bourbon-braised bacon, all drizzled with smoked paprika aioli.
Boston Pizza Festival; City Hall Plaza, 1 City Hall Square, Boston; Saturday, July 13 and Sunday, July 14 from 12 p.m.–8 p.m.; bostonpizzafestival.com