Restaurants
Take a look at the menu from Sally's Sandwiches, now open in the South End
The sandwich haven is tucked inside the original location of Blackbird Doughnuts.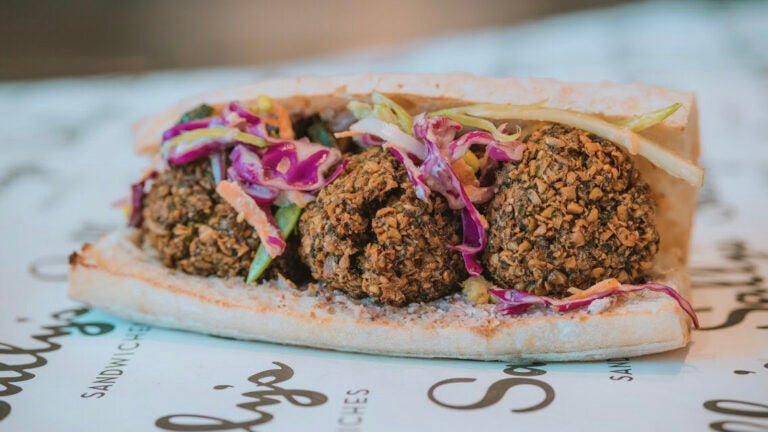 Big changes are happening at Blackbird Doughnuts in the South End, and it has nothing to do with the shop's coveted doughnuts.
On Wednesday afternoon, the team behind The Gallows Group, which operates Pan-Asian Banyan Bar + Refuge, Blackbird, and gastropub The Gallows, will open Sally's Sandwiches inside Blackbird's original South End location, one of four Blackbird outposts scattered throughout the city. Named after owner Rebecca Roth Gullo's mother, Sally's is a takeout-only concept that came to fruition after a recent move freed up some space in the South End branch.
"We moved our production from the Tremont Street location to the new Holton Street location [in Brighton]," explained Elena Todisco, managing director of The Gallows Group. "It left us with this fully-functioning kitchen."
Todisco said that the space, which was revamped by Cafco Construction in four days, is still aesthetically Blackbird, but with signs of the Sally's brand permeating the shop.
Although there are two breakfast options on the menu — a classic egg sandwich and breakfast tacos — Sally's focuses its bready creations on lunch, offering seven sandwiches from 10 a.m. to 3 p.m. A hefty brisket sandwich features slaw and pimento-goat cheese; a porchetta creation highlights a 14-hour roasted pork with arugula, garlic broccoli rabe, pickled cherry peppers, and cheeses; and the Gobbler is Thanksgiving on a roll: roasted turkey, griddled Stovetop, gravy, and cranberry sauce. Those looking for more vegetarian-friendly options should take note of the falafel sandwich and the grilled cheese, made with American, sharp cheddar, aged provolone, and parmesan cheeses.
There's even a separate menu for kids, with grilled cheese, avocado toast, and a gussied-up version of PB&J featuring sunflower butter, cranberry jelly, and brûléed banana. Both adults and kiddos can opt for gluten-free bread.
Sally's Sandwiches will open its doors on Wednesday afternoon at 1 or 2 p.m., said Todisco. In the meantime, take a look at the full menu below.
Sally's Sandwiches; 492 Tremont St., Boston; Daily 7 a.m. or 8 a.m.–3 p.m.; sallyssandwiches.com