Restaurants
Doughnuts will descend on the South End at the Boston Donut Fest
Spend an afternoon enjoying colorful murals and decadent treats.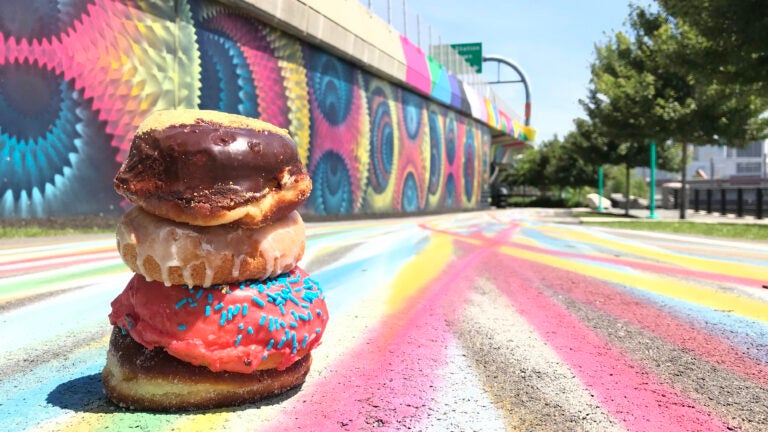 Summer food festivals are well underway, but if you aren't able to make it to the Boston Pizza Festival on Saturday and Sunday, there's still time to squeeze in a major food frenzy before the end of the month: the Boston Donut Fest.
Held on July 28 at the South End's Underground at Ink Block space beneath an I-93 overpass, the event sounds like a bastion for dessert fiends, and will highlight doughnuts from more than 10 major Massachusetts, Rhode Island, and Maine doughnut shops. While most treats haven't been announced yet, the lineup — which will have a few more shops added to it in the coming weeks — is a promising one:
Blackbird Doughnuts
DJ's European Market
Donut Stand
Donut Villa Diner
Doughboy Donuts
Kane's Donuts
Knead Doughnuts
MoMo Cafe
Rocco's Doughnut Co.
Satellite Doughnuts
Union Square Donuts
Of course, you can't have doughnuts without coffee, and there will be a couple of options to help wash it all down: Reign Drink Lab and NOBL.
Tickets to the event ($12 for a group discount, $15 for GA, with a portion of ticket sales donated to Pine Street Inn) include entry into the festival, but the doughnuts, coffee, and other items from food trucks will all be sold separately.
In between bites, attendees should check out the eight new murals that recently debuted as part of the 2019 Underground Mural Project; DJs and live music will also be part of the event's programming, as well kids games and giveaways.
Boston Donut Fest; 90 Traveler St., Boston; Sunday, July 28 from 11 a.m.–6 p.m.; $12–$15; BostonDonutFest-Boston.eventbrite.com